Junior Member
Join Date: Apr 2010
Location: Methuen, Ma
Posts: 18
'72 Flh
---
Hi, I am new to the site and was just checking out the different sections and saw "classics" so I figured I would share a few pics of my dads '72 FLH. It was in my family since 1974 first belonging to my uncle who then sold it to my dad. My dad ended up selling it 2 years ago for something newer. He ended up buying a '09 RK then last week bought a '10 Ultra Classic "peace Officer edition"
The '72 was all original paint, we had the original tires, seat and carb. Enjoy the pics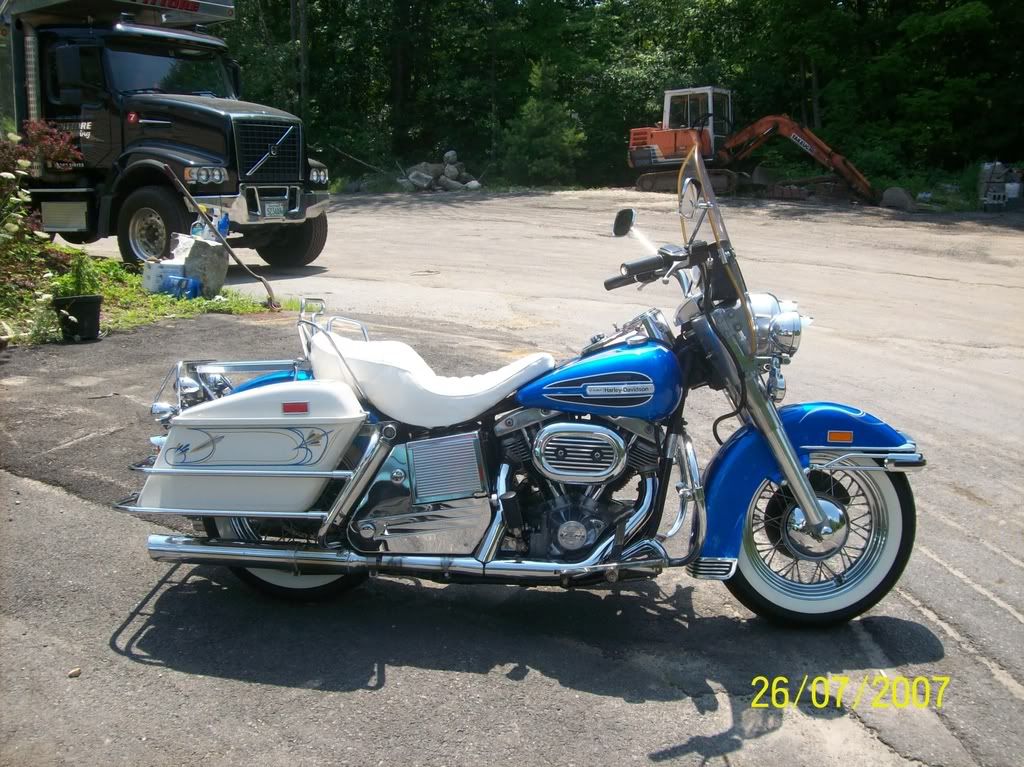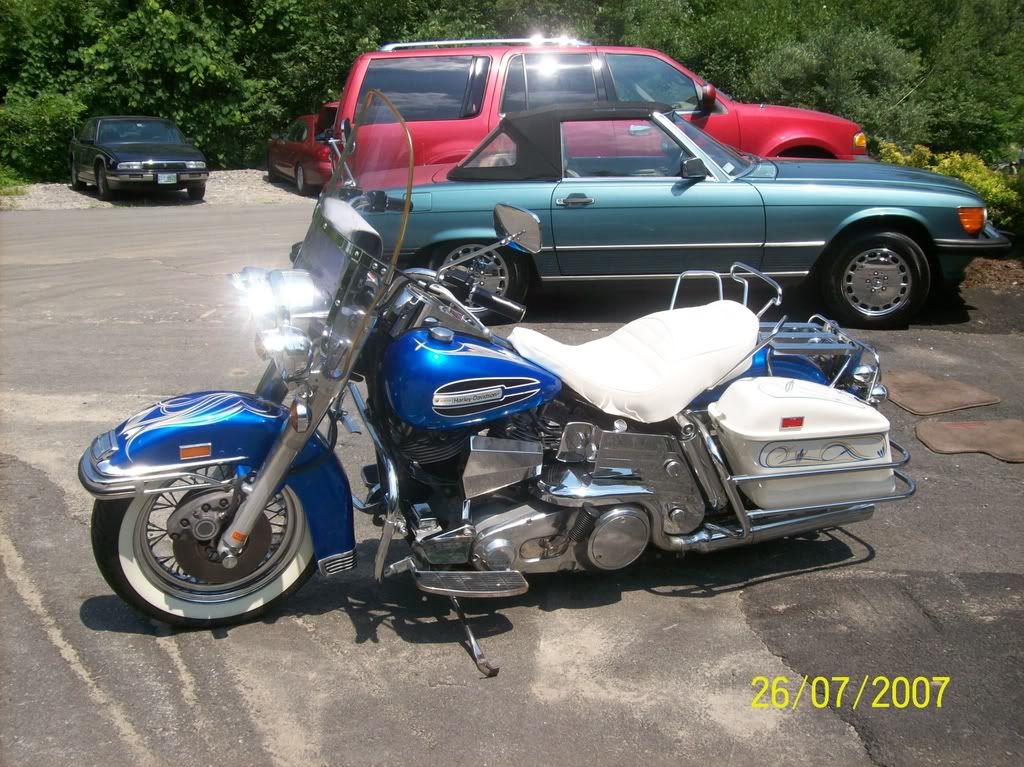 I hate you....................
My god.... that is the sweetyest Shovel. I'm so envious!!
---
__________________________________________
"When the going gets weird, the weird turn professional...." ~ Hunter S. Thompson~

R.I.P. Rubberdown. 1971-2012

"Your Jedi Mind tricks will not work on me...... ~Misinlink-2016~

2005 E.G. Classic
S&S 510 cams
Baisley Oil pump spring
CYCO tensioners
V&H Fuelpak
SE 3.5" pipes
K&N filter
Fueling lifters
S&S adj pushrods
Swingarm stabilizer
Senior Member
Join Date: Jul 2009
Location: COLORADO
Posts: 1,777
Junior Member
Join Date: Apr 2010
Location: Methuen, Ma
Posts: 18
A funny story. The day the guy came to pick it up, my Uncle, the one who sold it to my dad came up to "say goodbye". Then it became cloudy and started to sprinkle out with the possibility of harder rain. They guys wife had drove him and it was his intention to drive it home a hour or so away. When we told him it was about to rain he said "well I'll just wash it when I get home" Dad reminded him that in 37 years the bike had never seen rain and wasn't about to now. Dad loaded it up in the trailer and delivered it-lol
Retired citizen
Join Date: Jun 2009
Location: Pt. Wash.,WI
Posts: 17,304
That woulda been a keeper !
---
Disclaimer : Don't believe anything I say unless you are absolutely sure that I know what I'm talking about .
2010 Heritage
Join Date: Feb 2010
Location: Montreal
Posts: 1,198
Beautiful bike!
Nice looking shovel. Shame you had to sell it but you got to do what you gotta do. Brings back a lot of memories. Had a good friend in the 80s that had a 72 same color but a little less chrome. Rode from Louisianna to the Houston area in the rain with him to see the drag races. We new it was going to rain but we decided to go on the bikes because we didn't want anyone thinking we were light weights.
Thanks for sharing the pictures and stories.
---
Jim
Junior Member
Join Date: Apr 2010
Location: Methuen, Ma
Posts: 18
Actually we didn't "have to sell it" I just didn't want it. It was like everytime we drove it something had to be tighted, new carb gaskets every 100 miles. It was a waste to just let it sit there when the RK was bought so we found a buyer that was going to enjoy it. We were actually happy to see it go to a good home. Also alot of "chrome" that you see is actually the aluminum that is polished.
That is a sweet bike!! Sad to hear ya let it go and thanks for the pics and story!!
---
"09" Road King
"10" Forty-Eight
Senior Member
Join Date: Sep 2008
Location: Munnsville, N.Y.
Posts: 1,735
Nice!!
---
"....3 dueces and a 4 speed..........and a 389"..........
Goodson H-D Cylinder Head Tooling Manufacturer
Celebrating 30 Years of HD Engine Building