Junior Member
Join Date: May 2012
Location: ca
Posts: 7
Just Dragged Home a Knuckle......Ugly, but It's a Knuckle!
---
Just out of Arizona storage. Circa 1968 back yard customizing!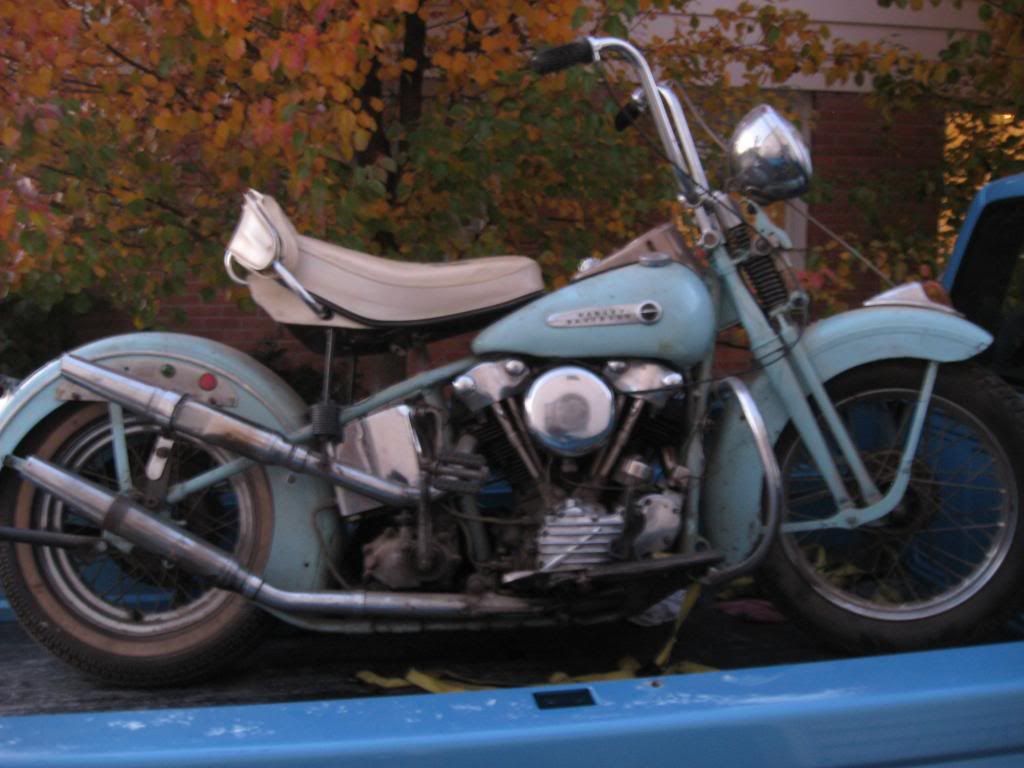 Senior Member
Join Date: Apr 2011
Location: Germantown WI
Posts: 693
Wow, a real live American Picker!
---
Let's ride,
I mean let's just ride!
2012 Ultra Limited
Life Church Riders Group Germantown WI
Riding with our Lord!
Hell yeah, what a score!
---
Mala Ipsa Nova
Psalm 144:1 Luke 22:36

'05 Carbed Night Train
111 rwhp, 112 rwtq
Best 1/4 ET 12.557s
Best 1/4 MPH 108.59
IAFF local 845
Join Date: Aug 2011
Location: Oregon
Posts: 1,909
Awesome... congrats!
---
'12 Street glide... adding miles.
There couldn't possibly be anything ugly about that!
It is fugly. I had an ugly cat once. It looked just like Lloyd Bridges. So we called him Lloyd. I don't know what I would call that thing, but I guess it does have it's own beauty.

I'm still digging out from my catastrophic computer crash (6 weeks now).
---
That was me 40 years ago
My how times have changed


I think therefore I am (Cogito Ergo Sum) Descartes
I ride therefore I am (Veho Ergo Sum) JPR

65 Italian scooter
66 305 Rice burner; NO PROBLEMS
67 650 English Bike; MAJOR PROBLEMS
1968/XLCH - lots of mods; loved it for 11 years; NO MECHANICAL PROBLEMS
2012 Heritage 103 Rush 2.0 pipes MAMBO #5
bought all brand new except scooter

There's a picture of the sportster after all the mods in my images file.
Señor Member
Join Date: Oct 2007
Location: Veracruz, Ver. Mexico (I rarely take off my flack jacket. ;-)
Posts: 2,384
Ugly? That thing is cool!
I'd clean it up and ride it just like it is.
Congrats on the new toy!
---
Ride Safe,
Vettster
2010, FLTRX W/ SE 120R.
Welcome to the forum. One of the best places on Al Gores interweb.
If you are new, why not mosey on over to the New Member section and tell us a little bit about yourself and your bike.
IBA#44072
Banned
Join Date: Nov 2012
Location: NORCAL
Posts: 175
the head light is aimed wrong,,,, better let me take care of it for ya,,,,
Banned
Join Date: Apr 2012
Location: Los Angeles
Posts: 853
Beauty is in the eye...
I'll take it off your hands if you really can't stand it. 😃
Sent from my iPhone using
Motorcycle.com App
SwampRat
Join Date: Jul 2010
Location: Lake City, FL
Posts: 725
No such thing as an ugly knuckle..
---
2000 FXR4, Stage 2/ 2012 Victory XC