Quote:
Originally Posted by
Harley Rider
I know a lot of people like PIAA bulbs but I for one will never buy them again. I paid a lot of money for them and went through 6 of them in about 3 months. Each of them either burned out one or both of the filaments. Thinking it must be a problem in my wiring, I checked everything out and it was all fine. Put in an el cheapo bulb and not had another problem in 3 years now. I'll never waste my money on PIAA crap again.
When installing bulbs DO NOT touch with bare fingers or they will burn out quickly. Never had a problem with the PIAA bulbs.
---
Confuse a liberal.....Use facts and logic.
_____________________________________________
2010 Ultra Limited FLHTK
SE Ventilator
SE Super Tuner
Jackpot Stainless Header
Rinehart 4" Muffs
I'll try to be nicer........If you try to be smarter.
Senior Member
Join Date: Jun 2010
Location: Washington State
Posts: 568
---
1987 Softail Custom, stock except for added chrome, and still running like new after 100,000 miles.
Junior Member
Join Date: Nov 2012
Location: Fort Lauderdale
Posts: 7
LED if you can change it out. Great difference, if you want to go that way.
I use a "super white" 55/100 from Motovan. #04-156. They are cheap as beans and work awesome as an upgrade.
---
DISCLAIMER Any advice I offer here is FREE! Take it for what it is worth.

Back tires, smoke em if you got em!
Watch me smoke em on my homepage.
PHXPhil
Join Date: Jan 2012
Location: Scottsdale, AZ
Posts: 3
I've replaced the stock bulb with the P.I.A.A. Super Plasma GX. It last 1.5 yrs. and had a blue/purple tint on Low. Was great otherwise. Now I'm running a P.I.A.A. Super White. Also a good bulb without the purple.

I have been warned not to go beyond the stock wattage - heavier wiring or not - because the higher wattage will generate enough heat in the shell to do other damage.

I find these bulbs to do the job for me at stock wattage and I didn't want to pay to go the LED or HID route. I'd try the easy/lower cost route before considering the extra $$$ solutions.
Junior Member
Join Date: Mar 2010
Location: Cheektowaga, NY
Posts: 3
If I was to replace my OEM headlight on a 1993 FLHTC for a brighter light, without a major project, what would be my best option?
Riding at night here in Kansas is getting so dangerous during the summer that I try to avoid it with a passion. Several riders have been killed on Interstate highways by deer and the rural blacktop roads almost seem like a nightly meeting place for them. This gets a little away from what headlight works best but deer come up out of the ditches so quickly that is barely matters what headlamp you have.
Senior Member
Join Date: Dec 2011
Location: Rockvale, TN
Posts: 131
Quote:
Originally Posted by
chasarms
I installed the Harley Davidson headlight that has the separate halogen bulb for the high beam and low beam. It replaced the sealed beam light in my 2004 heritage. It made a huge difference in the amount of lighting produced. Visibility is significantly improved.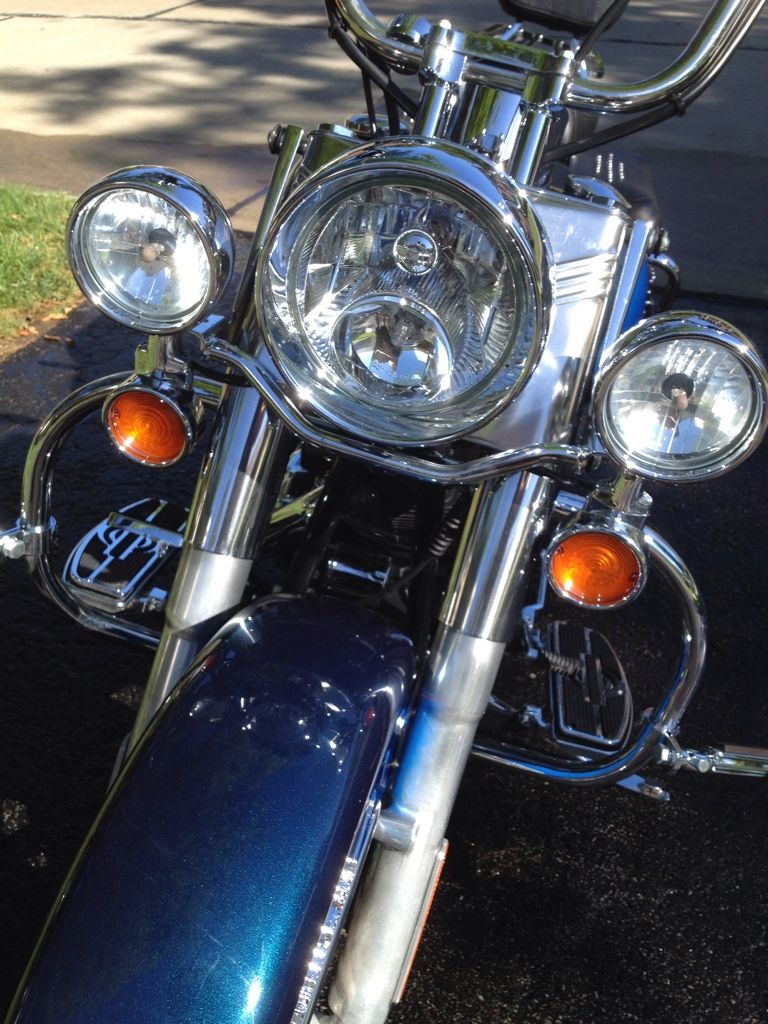 Sent from my iPhone using
Motorcycle.com App
This lamp is by far the best bang for the buck out there atm, however the OP is talking about a Sportster which has a smaller bucket size as well as a sorry reflector. I have no experience with those and can't comment on improvement.
---
18 wheeler pilot
Join Date: Sep 2012
Location: East TN Dragon Slayer
Posts: 27
This is good advice, I have updraded each of my Harley's with set up for years, about $12 at Wally, never had to replace 1 after upgrading. Brighter and wider lite. Money well spent. Plug and play.
I'll prolly go for the Sylvania bulbs. Just gotta figure out which #'s

I like the look-a-like HID'S that Sylvania has...Need all 3 bulbs passing and head light. Juts like the cool blue'ish looking bulbs.
---
08 FLHTC. Breathing well and getting lots to drink.