Member
Join Date: Aug 2012
Location: Chicago
Posts: 54
I really like the look and sound of the Vance and Hines big radius 2 into 2 kit and the Bassani sweepers.

Cons of the V&H set is i would also have to get forward mounted controls, so an added expense.

my 2 cents.
In the wind
Join Date: Oct 2012
Location: Wa
Posts: 422
Besides the 50 state Screamin' Eagles I am also looking at these V & H pipes.
I keep hearing 2 into 1's do good on mid range, but I also want good rev out too.
The Double Barrels have a power chamber for torque & v & h claim they are quieter than the Straight Shots.
Will I always be rubbing my boot on the Double Barrels with forward controls?
Double Barrels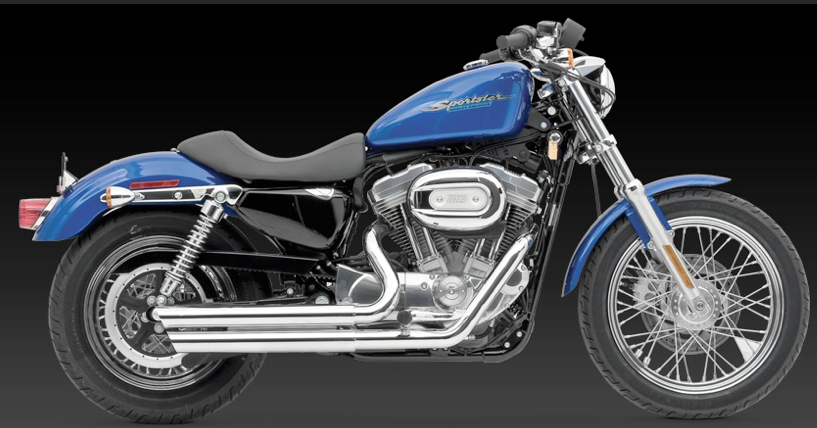 Straight Shots
Straight Shot slip-ons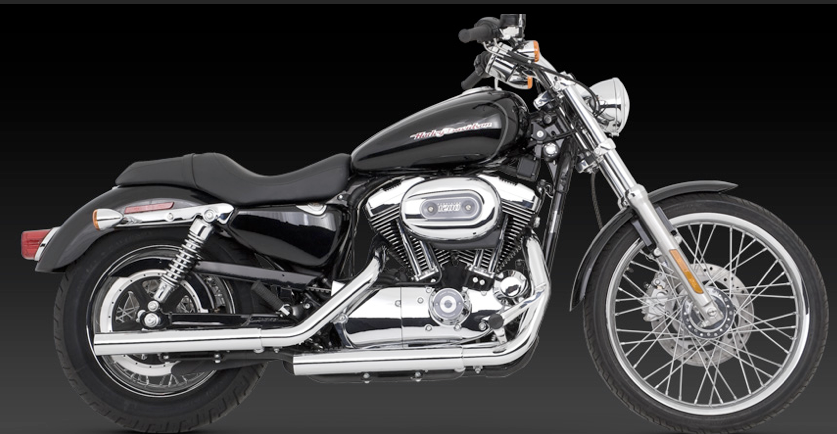 ---
"09" Road King
"10" Forty-Eight
Junior Member
Join Date: Nov 2012
Location: Texas
Posts: 10
My '12 1200c has Python slipons and they sound awesome. My cousin bitches when i pass him so they were worth the upgrade
not too much on the high side either i will try to look back and see what i paid for them.
http://www.harley-davidsonforums.com...200-custom.jpg
. check em out here. They have them on several sites for $249.99
---
Last edited by roylee74; 11-18-2012 at

10:39 PM

. Reason: Picture too small. Inserting price
Senior Member
Join Date: Oct 2012
Location: Lewisville, TX
Posts: 227
I will be getting a nice check from Allstate from a rear end accident I had with my truck. Since I don't plan on fixing the back bumper with the little nicks and scratches which don't bother me much taking the moola and fixing up my bike with some accessories. Should be getting enough for a full system + something else... Hopefully the check comes soon don't want to miss out on the Black Friday sales!!
Sent from my iPhone using
Motorcycle.com App
I have V&H short shots on my 07 883. They are really too loud even with the quiet baffles so I am told. I have also heard that there are a bunch of better pipes than any of the V&H pipes. These were on the bike when I got it. They were not baffled then. The bike ran like a raped ape under full throttle but don't dare go into 5th under 60 mph or it would cough and hack like an old man. Not good for commuting back and forth to work. After baffles, SE air filter and a dump jet remap. It is not a bad around town ride.

My 2 cents.