Member
Join Date: May 2011
Location: Tn.
Posts: 66
Techlusion TFI FAQs
Q: I hear your product only adds fuel. Some people say you need to remove fuel?

A: It is true that our product only adds fuel. We designed it that way to
keep it simple and affordable. Our belief is that in almost every
situation, addition of fuel is what fuel injected bikes need.

Fuel systems are mapped by the factory to be lean in cruise and everyday driving
conditions in order to meet emission standards. If you decide to change
your fuel system, most aftermarket exhaust systems tend to reduce back
pressure, which leans out the fuel even more.

There are a few exceptions to this, and one that comes to mind is the Honda CBR929/959 when the exhaust power valve is removed. Honda designed their engine specs around that feature (specifically the exhaust cam timing) and when you remove that valve, volumetric efficiency in the motor is lost causing a bottom end bog.

You can mask that bog by pulling out fuel around that area, and for that, you may have to go to another product. However, our product performs well with all aftermarket exhausts. We keep in mind that the exhaust must at least match the flow of the stock system that is being removed or modified in order to maintain maximum volumetric efficiency.
---
__________________________________________
"When the going gets weird, the weird turn professional...." ~ Hunter S. Thompson~

R.I.P. Rubberdown. 1971-2012

"Your Jedi Mind tricks will not work on me...... ~Misinlink-2016~

2005 E.G. Classic
S&S 510 cams
Baisley Oil pump spring
CYCO tensioners
V&H Fuelpak
SE 3.5" pipes
K&N filter
Fueling lifters
S&S adj pushrods
Swingarm stabilizer
Being this was a good discussion I'm going to get it back on the subject it started on. I had some Honda dirt bikes with single cylinder motors that had two separate pipes comming from the head. They were 4 valve heads that had a small pipe comming from each exhaust port going into a single muffler with good low to midrange torque. No doubt the 2 smaller pipes had higher exhaust gas velocity than a larger single. There was a removable baffle in the muffler but I don't believe it made much differance other than sound when removed. We had to leave them in to ride in the National Forrest as they were part of the spark arrester. It looks like a baffle in a pipe decreases the size of the pipe, forcing the exhaust through a smaller area and increasing the gas velocity. This would increase scavenging. I said in a earlier post a baffle slowes down the exhaust but this may not be correct. It may slow down reversion a bit and give the exhaust valve more time to close.
Billy
---
2013 FLHR Anni
---
98 Evo 83.5ci, custom cam, 44cv, lightened ballanced crank, H-Beam rods, beehive springs, tapered pushrods, johnson hylift lifters, SE slip-ons no baffle, 101.78 hp @ 6200rpm
Banned
Join Date: Sep 2009
Location: Hamilton, Canada
Posts: 5,336
Quote:
Originally Posted by
Biker Bry
No! It's not for emission compliance, it's a chemistry FACT! You can tell me all your "beer swillin" bench racing theories but I'd rather stick to the science of internal combustion efficiency in theory and practice.

I have a degree in internal combustion theory and the science behind it has never let me down. I have over 20 years automotive experience and even designed an alternative fuel system that is in production and running down the road on THOUSANDS of vehicles which were both EPA and CARB certified to run in ALL 48 continuous states. I know what I'm talking about.
All 14.7:1 means that IN THEORY there is one molecule of O2 available for every molecule of fuel. In PRACTICE not all of the molecules of fuel are available due to non homogenic mixture in the combustion chamber. Some of the fuel is not evaporated etc. That's why for max power (or even good power) in the real world a richer mixture is required than would be theoretically required. There will be some unburned fuel left over and this is why the EPA doesn't allow the richer mixtures.
I also have a degree in physics/minor chemistry and worked in automotive for 20+ years as well as successfully campaigning a very fast street/drag Harley in the 80's.
Quote:
Originally Posted by
Billyram
Being this was a good discussion I'm going to get it back on the subject it started on. I had some Honda dirt bikes with single cylinder motors that had two separate pipes comming from the head. They were 4 valve heads that had a small pipe comming from each exhaust port going into a single muffler with good low to midrange torque. No doubt the 2 smaller pipes had higher exhaust gas velocity than a larger single. There was a removable baffle in the muffler but I don't believe it made much differance other than sound when removed. We had to leave them in to ride in the National Forrest as they were part of the spark arrester. It looks like a baffle in a pipe decreases the size of the pipe, forcing the exhaust through a smaller area and increasing the gas velocity. This would increase scavenging. I said in a earlier post a baffle slowes down the exhaust but this may not be correct. It may slow down reversion a bit and give the exhaust valve more time to close.
Billy
I build pipes for 4 stroke MX bikes etc. and have done a lot of dyno development on them and one of the problems that come from baffles is not so much that they hurt flow , but they cause a sonic wave to reflect back up the pipe and it plugs up the flow on overlap and causes a power loss , I actualy designed a special muffler core that steps out in size where the baffle is located that is designed in a way that the sound waves reflecting off the baffle hit another perimeter baffle and cant travel back up the pipe so flow on overlap is not effected, and even though the flow is restricted with the baffle there is no power loss to speak of
---
Dave Harryman mrd-racing

91 Heritage ST
80 cid
ported / 5 angle
EV 46
edelbrock 40mm
Dyna S / Nology
MRD exhaust 1 3/4" x 1 7/8" x 2" 2 into 1
Banned
Join Date: Sep 2009
Location: Hamilton, Canada
Posts: 5,336
Quote:
Originally Posted by
Dave Harryman
I build pipes for 4 stroke MX bikes etc. and have done a lot of dyno development on them and one of the problems that come from baffles is not so much that they hurt flow , but they cause a sonic wave to reflect back up the pipe and it plugs up the flow on overlap and causes a power loss , I actualy designed a special muffler core that steps out in size where the baffle is located that is designed in a way that the sound waves reflecting off the baffle hit another perimeter baffle and cant travel back up the pipe so flow on overlap is not effected, and even though the flow is restricted with the baffle there is no power loss to speak of
Thunderheader's antireversion cone baffle has been doing this for years
isnt that the whole theory on a reverse megaphone style muffler??

of which is on my 70hp quad
---
98 Evo 83.5ci, custom cam, 44cv, lightened ballanced crank, H-Beam rods, beehive springs, tapered pushrods, johnson hylift lifters, SE slip-ons no baffle, 101.78 hp @ 6200rpm
Quote:
Originally Posted by
chris_lacey
Thunderheader's antireversion cone baffle has been doing this for years
does the thunderheader antireversion cone have a baffle ? and by baffle I mean a component that restricts flow, because that is what I designed and it drastically reduces noise with virtualy no power loss
here is what my antireversion chamber core design looks like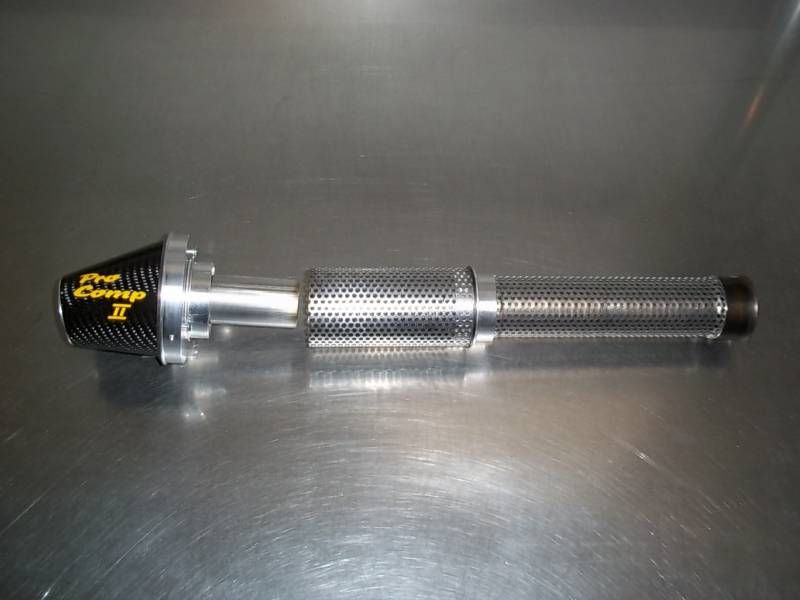 ---
Dave Harryman mrd-racing

91 Heritage ST
80 cid
ported / 5 angle
EV 46
edelbrock 40mm
Dyna S / Nology
MRD exhaust 1 3/4" x 1 7/8" x 2" 2 into 1
Quote:
Originally Posted by
98DARKHORSE
isnt that the whole theory on a reverse megaphone style muffler??

of which is on my 70hp quad
yes it is ,and a good tunned meg is the ultimate, but some cant handle the noise they put out , and the timing of the sonic wave is the factor , and when you just stick a baffle in a tunned system ( weather it is a meg or regular tunned exhaust system )it changes the sonic wave timing resulting in loss of power , so if you can design a baffle that wont otherwise change the sonic wave timing of a good tuned system then you have something , I was just trying to explain to the other member why baffles often hurt power
---
Dave Harryman mrd-racing

91 Heritage ST
80 cid
ported / 5 angle
EV 46
edelbrock 40mm
Dyna S / Nology
MRD exhaust 1 3/4" x 1 7/8" x 2" 2 into 1