I know Im new here so let me tell you guys that Im not new to building engines for more power , I am a engine builder / machinist / fabricator , here are a couple pics of some VW engines I built back in the 80's ,you cant buy these parts , they are hand made , not trying to brag ,just trying to let you guys know I have a lot of experience when it comes to hot rodding stuff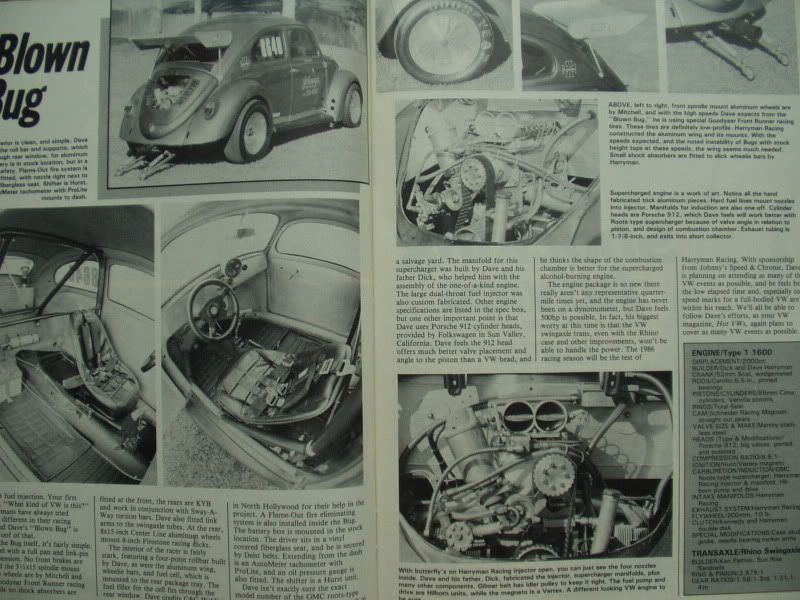 this one had Porsche Hemi heads and overhead cams fitted
---
Dave Harryman mrd-racing

91 Heritage ST
80 cid
ported / 5 angle
EV 46
edelbrock 40mm
Dyna S / Nology
MRD exhaust 1 3/4" x 1 7/8" x 2" 2 into 1
---
Last edited by Dave Harryman; 11-25-2012 at

08:32 PM

.
Nice!
---
Mala Ipsa Nova
Psalm 144:1 Luke 22:36

'05 Carbed Night Train
111 rwhp, 112 rwtq
Best 1/4 ET 12.557s
Best 1/4 MPH 108.59
Banned
Join Date: Sep 2009
Location: Hamilton, Canada
Posts: 5,336
Quote:
Originally Posted by
Dave Harryman
does the thunderheader antireversion cone have a baffle ? and by baffle I mean a component that restricts flow, because that is what I designed and it drastically reduces noise with virtualy no power loss


Yes, see for yourself here:
Thunderheader X-series Exhaust
Senior Member
Join Date: Sep 2008
Location: Munnsville, N.Y.
Posts: 1,735
It is not about "backpressure", but rather the ability to CORRECTLY control the reversion.
Scott
---
"....3 dueces and a 4 speed..........and a 389"..........
Goodson H-D Cylinder Head Tooling Manufacturer
Celebrating 30 Years of HD Engine Building
thanks for the info , looks like that is how it can be done on a meg ,has anyone dynoed it back to back against a empty one and do they say how many DB it lowers the noise output ? ....anyway my design is for glasspack type mufflers not megs , and it lowers full throttle noise output drasticly with only a .5 peak HP loss , it makes an overly loud open system pass the FIM/AMA sound test on the dirtbikes we run them on
---
Dave Harryman mrd-racing

91 Heritage ST
80 cid
ported / 5 angle
EV 46
edelbrock 40mm
Dyna S / Nology
MRD exhaust 1 3/4" x 1 7/8" x 2" 2 into 1
Quote:
Originally Posted by
Hillsidecycleco
It is not about "backpressure", but rather the ability to CORRECTLY control the reversion.
Scott
that is what I was trying to say
---
Dave Harryman mrd-racing

91 Heritage ST
80 cid
ported / 5 angle
EV 46
edelbrock 40mm
Dyna S / Nology
MRD exhaust 1 3/4" x 1 7/8" x 2" 2 into 1