Senior Member
Join Date: Oct 2011
Location: Norman OK
Posts: 753
Senior Member
Join Date: Oct 2010
Location: Charlotte/Harrisburg NC
Posts: 864
Well, at least I got to pet it some - pulled the heads and jugs. Base gaskets were totally trashed. I received my pushrods and tappets today. I am going to strip the old black off the jugs and heads and redo the jugs.
Quote:
Originally Posted by
OLDDEADEYE
That lift is similar to my alignment lift.

If that's slammed, I have I must have been over-run.
It's just a drive on lift. Nothing fancy. Air jacks in the center and a max weight of 12,000 pounds. Can't fit the 4500s and 5500s on it though.
Also got my wrap done. The PO bent the rear exaust flange seal all to hell so it wasn't ever sealed. Leaked like crazy apparently. Everything is closed so I "fixed" the old one with some hammer love and a vise.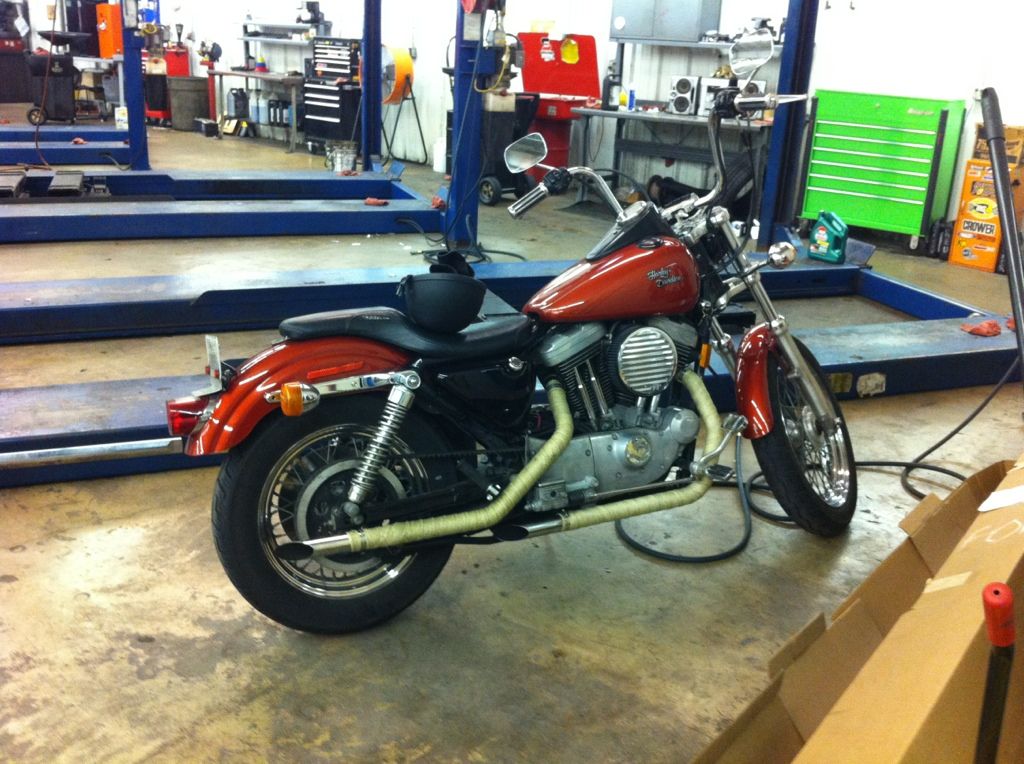 I put the rear Renegade Racine 17"x6.25" w/17x200x55 Dunlop tire on today.
Pics coming
---
103" w/Race Kit,Stage IV 117HP 111TQ
SE 259E Cams
SE Heavy Breather AC (Scott's modified)
SE Race Tuner
V&H Power Duals & Hi Outputs
SE CNC Heads 10.62/1 w/SE 58mm TB
John Scott port matching
Renegade Racine wheels. 21x3.5/ 17x6.25
http://www.harley-davidsonforums.com...845-petew.html
70 in Nebraska. Ridding for a month an half. Rode furthest, longest and fastest that I have ever ridden. Great day! Here's to hoping we get another nice day before I put it away for winter.
Sent from my iPhone using
Motorcycle.com Free App
Lee was watching over us today as we did the annual "Lee Run" a Thanksgiving morning tradition. The group may be one smaller, but we are all that much closer.
Riding North along A1A in S. Florida watching the sun rise as we were cruising...
Rest in Peace Lee, we miss you brother.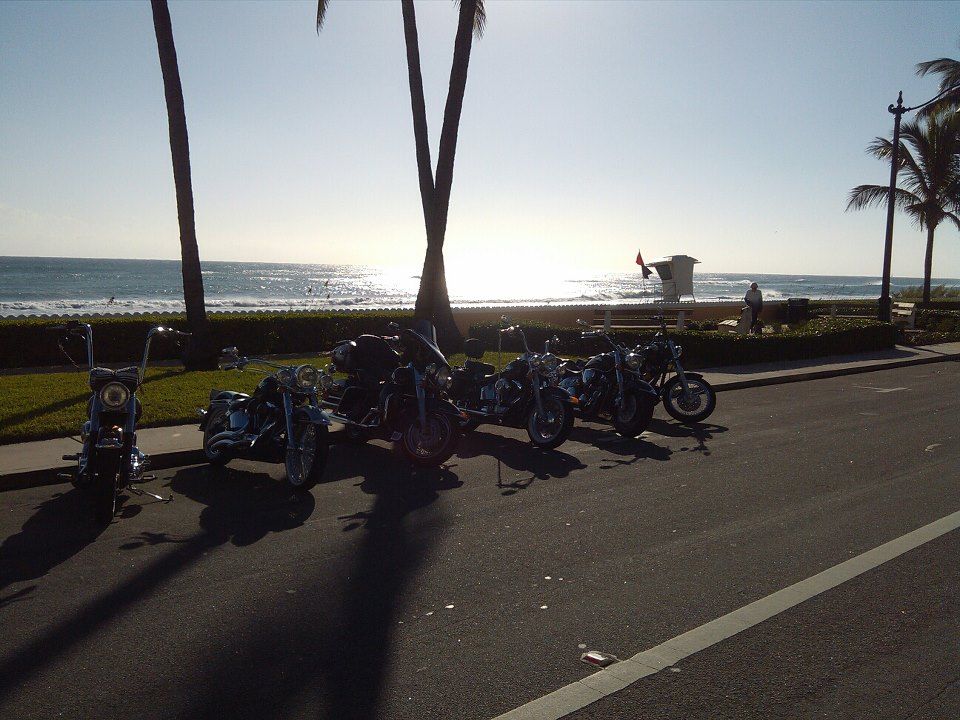 ---
Leave the gun. Take the cannoli.
The problem with the world is that everyone is a few drinks behind.
~
Humphrey Bogart
Nice sounding ride in mem of Mr Lee. I rode to the groc store on the ultra and ordered a V & H air cleaner cover for my V02. On the Internet on the old Eye- phone. Hee hee.
Sent from my iPhone using
Motorcycle.com Free App
Went for a ride today, tried to get it 20000 on the clock..came up short 19993. But all in all a great day. And no I didn't do all 20k today..but still not bad for an 09 with our climate here!

Sent from my EVO using Motorcycle.com Free App
---
09 FLHX
V&H Dresser Duals
V&H Monster Ovals
K&N Air Charger
Power Commander V
flipped 55555 miles on friday. no big deal.
---
2008 FLSTF riden by a fat boy. 16 inch apes w/ stainless lines, brawler solo, billet assesories, denim blue, SE II slip ons, Power Vision, big sucker.


Between Eternities
Join Date: Nov 2012
Location: Boyce, VA
Posts: 842
Took the bike down I-81 to a random exit (Mount Jackson, VA) and discovered a historic wooden bridge by luck - sign at bridge entrance warned motorcycles that track across bridge was only 3 feet, and sure enough when I banged over the threshold and entered the bridge, it sounded like an old wooden roller coaster as my front end swerved slightly when crossing the right track.

There were some tourists inside the bridge taking pics, so when I rolled through with my loud pipes, they were not too happy....
---
That's the style!