Mongo, we've never met but.....
---
...somehow i thought this might appeal to you!!!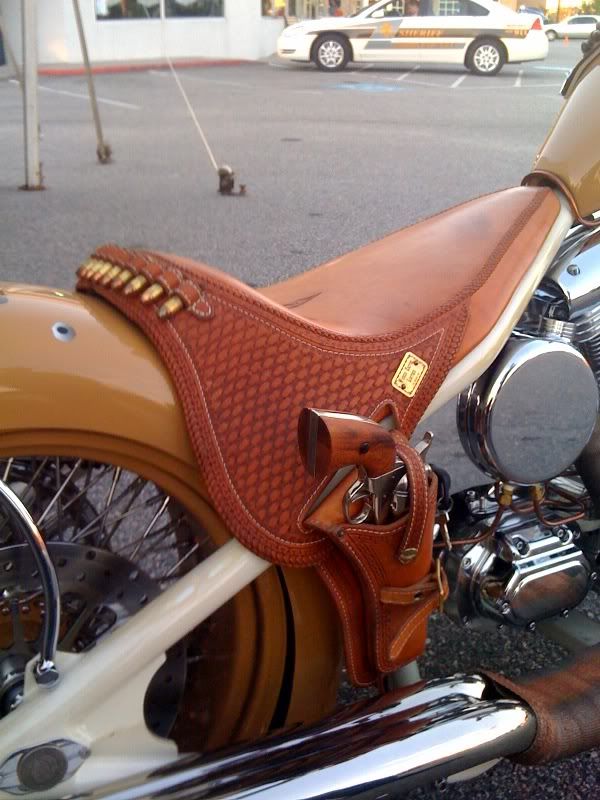 Village Idiot
Join Date: Aug 2012
Location: St Petersburg, FL
Posts: 2,297
That is awesome. Way too cool...
---
The object in life is not to arrive in a pristine well taken care of body; rather it is to slide in sideways, body thoroughly used up, a drink in one hand and chocolate in the other, screaming "That was one HELL of a ride!!!"
Guitar NOT Gator
Join Date: Mar 2007
Location: Grand Prairie, TX
Posts: 10,582
Saw that bike (or one just like it) in Daytona once. Said he had never been pulls over. He had fak guns but they looked real.
---
2016 FLHTK - 18 miles and counting
2004 FXSTSI - 10,000 miles and counting
http://www.doolinband.com
- the band!
Dr. Rick "Superman" Doolin 1970-2014. Miss you bro.
Proud member of the NTC (North Texas Crew)
That is one of the coolest things I have ever seen.
OOOO I WANT IT I WANT IT I WANT IT!!!!!
Senior Member
Join Date: May 2012
Location: Illinois
Posts: 280
Sheriff's car in the background, lol

Sent from my SCH-I500
Senior Member
Join Date: May 2012
Location: Illinois
Posts: 280
Could be, I suppose

Sent from my SCH-I500