Should i do this trade?
---
Hey all
So I'm considering selling my girl to get a newer model.
I've had Princess for a little over 2 years and we've been as far east as The Cabot Trail and as far west as Sturgis.
She's got about 37,000 miles on her and she hasn't let me down once.
Like I said I'm just considering this but was looking online at the 2010 Street Glide.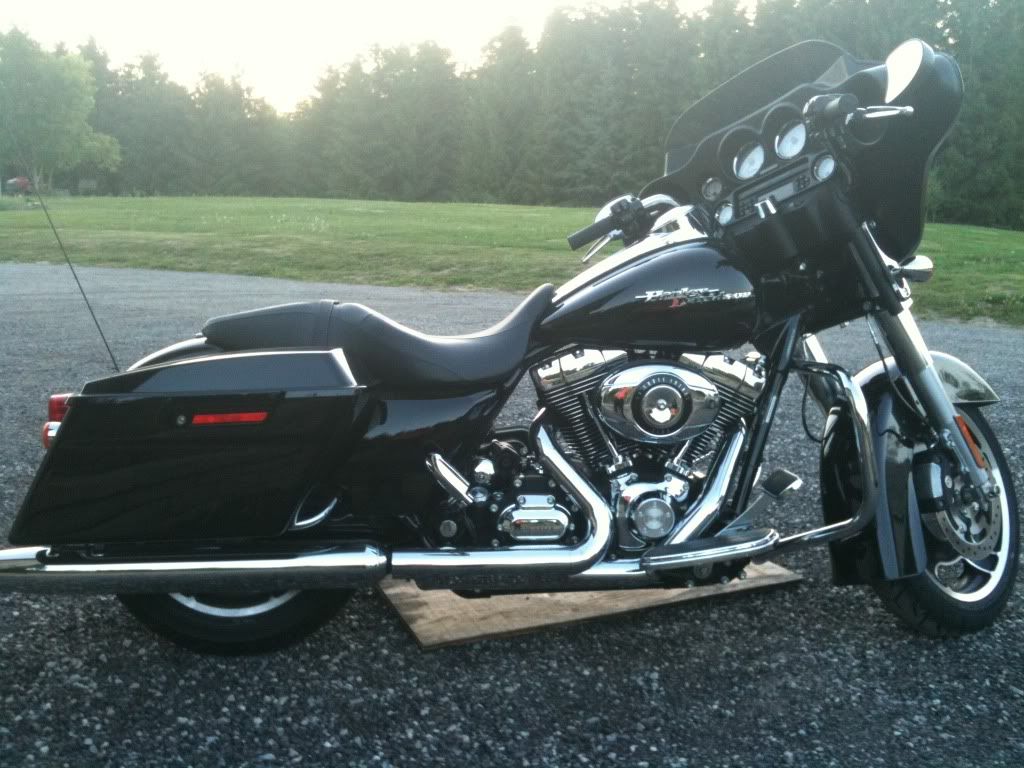 So my question to you all is….how much of a difference are there in these 2 bikes.
2005 Heritage Classic Softail to 2010 Street Glide FLHX
Aside from the obvious….bigger tank and 6 speed, how much of a difference in these bikes is there?
Is it night and day or hardly any difference at all?
What is the ride like between these 2 bikes?
Is it a large purchase that I don't really need to do or is this something I should seriously consider?
I do plan on going to Sturgis again next summer so I'll need to be as comfortable as when I went out this year.
Has anyone else done a similar trade?
Any regrets?
So come on all you SG owners….what do you think?
---
And just a side note.
The pic of the SG is just for a reference....I'm not looking at buying that particular bike.
---
Senior Member
Join Date: Oct 2012
Location: Missouri
Posts: 513
Well bear in mind my choices when considering my next bike only briefly centered on a SG, I was mostly bouncing between a RK and a RG. I settled on the RG mostly due to the way it handled with the fixed fairing.

I'd never owned a bike with a windshield let alone a fairing and had no idea just how much "vibration" is transferred to the handlebars with one. You probably don't even notice it however, I found it to be tiring in a long run.

I saw little difference between a RK and a SG in that aspect.

The SG is a nice ride but then, so is what you've got. Mechanically I really don't have a list of what improvements were made between the years.

Personally I like the "styling" of the SG better but face it, you aren't looking at it when riding, and that's not necessarily a plus where comfort is concerned.

One extra gear is nice to have on the highway, but I rarely use it on most of the roads I travel.

You seem to be happy with what you've got, I'd say examine the reasons you are even considering a trade.
I just made a similar trade this summer, although not for a SG. I had a Heritage that I absolutely loved. But I decided to trade it for an Ultra, just for the reasons you mentioned -- comfort.

The Heritage was comfortable, but not as comfortable as the Ultra.

Although I miss my Heritage and would love to own another one if I could have 2 bikes, I won't give up my Ultra.

Some reasons I like it:
Comfort
Adjustable rear shock
Cruise Control -- wow, I didn't know how much I'd love having this!
Hard saddle bags that lock, although I don't lock them that often.
Tour-Pak. This gives me so much storage that packing for trips is never an issue anymore.

I believe the lean angle on the Ultra is better than the Heritage, so I don't drag footboards as often anymore.

Many people like the Stereo and possibly CB that comes with it. I think the Stereo is great, but I already had the Scala Rider bluetooth set up in my helmet, so I still use that. But I mounted my cheap GPS on my handlebars and plugged it in through the stereo, so now I get turn-by-turn voice directions through my stereo if I need it.

Also, I really like the look of the Road Glide and Street Glide, so I paid extra to have my Tour-Pak detachable. So now if I want the SG look I just take off the Tour-Pak. But honestly I find that I rarely do that, just because that extra storage is so convenient.

Hope this helps.
---
2012 FLHTK, Solid Black
Iam lucky to have both..a softail Fatboy and an Ultra...love the FB for just hoping on and running around the lake,its loud higher bars just fun to ride....but the Ultra is in a class by its self...if could only have 1 bike it would be the .....................Ultra hands down..
---
2012 Ultra Classic White hot Pearl..... 2002 Fatboy Concord Purple,
See this is why I said I'm considering it.
Right now I'm still just spit balling it.
I mean don't get me wrong….I love Princess.
Last year riding out to Colorado was awesome.
10 – 12 hours a day and it wasn't too hard on this old boy at all.
There are many reasons to go back and forth on which bike.
6 speed…bigger tank…newer cleaner shinier…or
Character…trust…comfort and feel.
I just knew there had to be a few people in my shoes who have been down this road.
If the bikes are basically the same and all I'm getting is newer cleaner shinier then maybe it's not the best move for me .
But if it's more than that then ya I would like to consider it and maybe even look into it further.

Thanks all that have posted.
I'm sure there are more of you that have been down this road and I hope to hear from you.

Ray-zer….great post and you have made some very valid points
Lakefortx…I'm jealous and no way could I do both.
Secoleman …at first I was convinced it was the RK I wanted lol.
Then started looking at the SG.
I appreciate your post and believe me I've been looking as to why I am considering a trade
---
Senior Member
Join Date: Jun 2010
Location: Washington State
Posts: 568
Jesus, I read the first line and thought you were selling your girlfriend. I was all ready to ask you how much and what model. You sure know how to get a guy's attention!
---
1987 Softail Custom, stock except for added chrome, and still running like new after 100,000 miles.
---
Last edited by Harley Rider; 11-13-2012 at

04:54 PM

.
One of the biggest things is that ur heritage has a counter-balanced engine, versus the non counter-balanced engine in the streetglide(i think i got that right). My buddy has an 07 heritage and was considering trading for a SG until he test rode one. His bike idles smooth as glass and thats what he's used to, i guess he doesn't like the vibes.
---
"09" Road King
"10" Forty-Eight
Retired citizen
Join Date: Jun 2009
Location: Pt. Wash.,WI
Posts: 17,304
Hasn't let ya down ! So keep it and buy the new one too ! Other wise keep the one that hasn't let ya down !

Kinda a no brainer here !!!
---
Disclaimer : Don't believe anything I say unless you are absolutely sure that I know what I'm talking about .
Junior Member
Join Date: Nov 2012
Location: Connecticut
Posts: 1
I have a Heritage Springer and an Ultra Lmited. There is really no comparison between a Softail suspension with only a couple inches of travel and the adjustable suspension on an FL model. The Softail ride is acceptable and beats a rigid but is an old school type ride where the FL is a completely modern ride. Every year I demo ride every type of touring bike made and the ultra is on par with the Goldwings and the like. I love my Springer but the Utra is my "Life Bike".
---
Last edited by Rifrafredo; 11-13-2012 at

07:41 PM

.