Very nice. I love that part of PA.
---
2011 Ultra Classic Limited (FLHTK)
V&H Power Duals
SE Tourer Slip-Ons, A/C, and Super Tuner
AEC(AW/NAC), USN (Ret.)
Widows Sons Masonic Riders Association
Naphtali Tribe
Guardian of Membership
Road Captain
Quote:
Originally Posted by
Dave63
I did... The bike also had blackwalls a month ago. I also just added the Samson pipes I got from serviceguy85.

The fairing flares are new.

The second antenna is new.

The tank bra is new and my winter soft lowers are on.
Ahhh...
Lots of changes I missed.
Looks great... Really dig the color.
Glad you got out.
---
"You drain the joe...you make some mo!"
Terry Tate - Office Linebacker
VA Fender Bender
Join Date: Oct 2012
Location: Ellamore, WV
Posts: 5,464
great day for a ride and good looking bike!
---
Dave




I Googled "who gives an eff?", my name was not listed......

My hairs turning white, my necks always been red, my collars too blue....
Banned
Join Date: Jan 2012
Posts: 2,247
Quote:
Originally Posted by
Dave63
Not really. Most of the heat is on my (bottom) left leg. The pipes are OEM. The slip-ons are Samson.
There's heat shields on them.......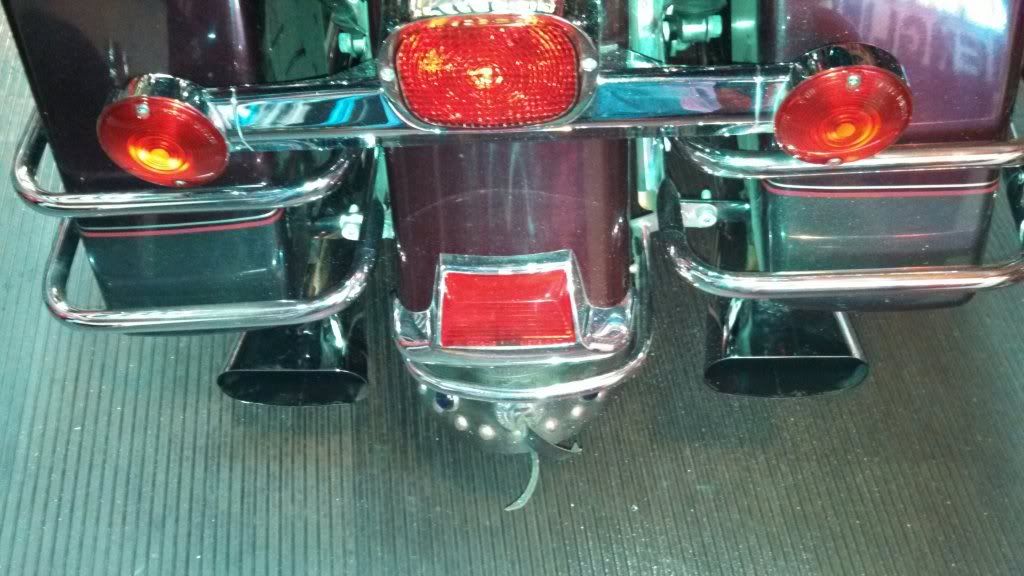 Yup...heat gets to my lower left leg as well. Not really a problem when I'm wearing chaps but if wearing just jeans then I have to keep my left leg out away from the pipe...even with the heat shields it gets rather toasty
.
2014 FLHXS
Join Date: Oct 2011
Location: El Dorado AR
Posts: 2,970
For some reason Dave I never pictured you on a big touring bike.
Village Idiot
Join Date: Aug 2012
Location: St Petersburg, FL
Posts: 2,298
Dave, that thing is gorgeous! I really like the color. I went with the short stubby antennas on my UC, too and now they hold my Jack In The Box balls better :-)
---
The object in life is not to arrive in a pristine well taken care of body; rather it is to slide in sideways, body thoroughly used up, a drink in one hand and chocolate in the other, screaming "That was one HELL of a ride!!!"