Consider that part of your tuition.
You'll never do that again.
---
Mala Ipsa Nova
Psalm 144:1 Luke 22:36

'05 Carbed Night Train
111 rwhp, 112 rwtq
Best 1/4 ET 12.557s
Best 1/4 MPH 108.59
The other white meat
Join Date: Nov 2009
Location: WNC
Posts: 2,212
Quote:
Originally Posted by
Chief Illiniwek
It's all good guys. A couple scotches and I'm good as new. Stupid ass mistake. Better for it. Even if I need to have the pan replaced by a pro, I'll be completing the rest of the work myself. Between now and then I'll be getting some experience with those new tools so I have a clue on my second try.

I do not regret doing the service at all, just my jackassery.
Awesome man! I was pretty lite meself when I come in last nite an read this so I poured me one more shot an toasted ya for future successes.
Got me to thinking about some of me success and failures. been holding wrenches before i had pubes.
Me neighbor had a garage and because i had small kids hands or more because he liked his beer, I spent several years working for him on the weekends.
One thing I always appreciated about old Smitty was his attitude when something went wrong.
Don't worry Mac (he always called me Mac but me name is Mike) ain't nuttin we can't fix... "and" he never yelled at me for trying.
R.I.P. Smitty, you taught me how to approach life and how not to walk away from a problem. oh yea, and how to hold a wrench
dang, now I'm a missin that old grouchy codger
---
R.I.P. Rick Massey "Rubberdown"
Double secret agent 00019
Good story, crab! Thanks for the good words.

Now, I don't care for excuses and I care even less for people who blame others.

But thinking back through this, this might not have been mine. I prefer to own my mistakes, but thinking back I was surprised how loose that plug was when I first touched it. Also remembering now the 15 mins I spent getting all the thread tape off and thinking back to that thread about how the manual says nothing about thread tape and wondering why whoever did my last change loaded mine up.

Now remembering how I never heard or felt that wrench hit torque. Maybe it never did? Maybe that sucker was stripped at the last dealer-done service and they just passed the mistake down the road.

I've been playing with the wrenches since and I'm all but convinced that that drain plug never made it to torque by my hand.

The dealership that did the 1k and 5k is out of business now, so I'm owning it either way. And, it still could've been me. But that wrench is pretty obvious so now that I have a clue, I'm not so sure.

Regardless, the lesson will last me a lifetime.

Thanks everybody for being cool about it.
---
2011 Road King Classic, Cary Faas Racing mufflers on V&H Dresser Duals, Arlen Ness Big Sucker Stage II Air Cleaner, Power Commander V
I would like to add an opinion for what it is worth.
Personally I have never used a torque wrench for the oil plug. Soooo. I checked my service manual and it gives a range of 14-21 Ft pounds. It seems crazy to me to give a range of 50% if it was that important.
I say go back to doing it by hand.
Sent from my iPhone using
Motorcycle.com App
I promise I won't be using anything stronger than my 1/4 drive for a drain bolt again. I'm not that stewpid. I've always used my little 1/4 and taken it easy, or just used a hand wrench.
---
2011 Road King Classic, Cary Faas Racing mufflers on V&H Dresser Duals, Arlen Ness Big Sucker Stage II Air Cleaner, Power Commander V
It also occurs to me that there are people that may not know how to use a torque wrench or what the indicator sounds and feels like.
Here is a little vid of it. Notice that immediately after the click the tension on the wrench releases. That is the point when you should stop applying pressure.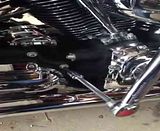 Sent from my iPhone using
Motorcycle.com App
Yeah, dude. It never did that.
---
2011 Road King Classic, Cary Faas Racing mufflers on V&H Dresser Duals, Arlen Ness Big Sucker Stage II Air Cleaner, Power Commander V
---
Mala Ipsa Nova
Psalm 144:1 Luke 22:36

'05 Carbed Night Train
111 rwhp, 112 rwtq
Best 1/4 ET 12.557s
Best 1/4 MPH 108.59