New member from So. Dak
---
Home is Sioux Falls South Dakota.
I'm about 360 miles straight east of Sturgis, if that helps.
We got 3 inches of snow this morning and it is now snowing again, so you can quess what I'm NOT doing, riding.
I've rode metric bikes (Honda,Suzuki and Kawasaki) for over 40 years, although my very first bike was a Harley M50. That was that Aremachi 50cc step thru job. That probably does not qualify as "my first Harley". Sure had a ball with it though.
This past August I picked up my first real Harley. 2008 Street Glide Anniversary Edition, love that thing.
The guy I bought it from had only put 9700 miles on it since buying it new, I put 2500 on it the first two months I had it, then pretty much put it up for the season.
Dying to get it out this spring.
Like I say, been riding for over 40 years, I'm 58 and retired 3 years ago from a full time position with an Air National Guard base in Sioux Falls. I was an A7 and F16 aircraft mechanic for 25 years, then became an aircraft mechanic supervisor for the last 7.
Just call me Viper.
472 was the tail number of the last F-16 that I crewed, and F-16's were Vipers before they were Falcons.
The only modifications I've done to my SG are a taller windshield (Cee Baily), a Mustang seat, and I lowered the front forks using Progressive drop in springs.
I also bought a Quick Detach trunk mount and use a real inexpensive aftermarket trunk (Matazu). It's cheap, it looks cheap and the only time I use it is when we ride two up and that is really not all that often, but it does work very very well for the $100 I spent on it.
First mods in the spring is gonna be Progressive shocks, I'm just not a huge fan of the SG air shocks. Think I'll do the Progressive Touring Stabilizer link, more for piece of mind than anything. I'd like to change handle bars and get me alittle more rise than the oem bars, still trying to figure that one out, I don't want to change cables if I don't have to.
Well I've rambled on long enough for my very first post. I'm looking forward to scouring these pages for the wealth of information that is sure to be here.
Here's a couple pics, if they do not fit you image restrictions just let me know and I'll see what I can do about resizing them.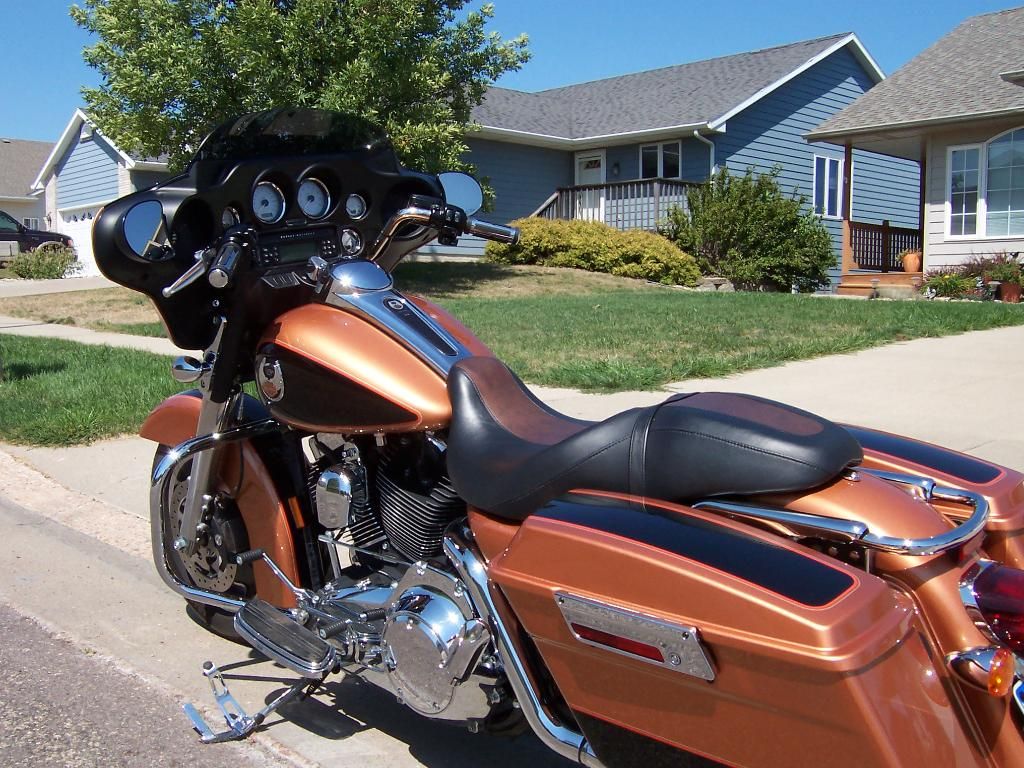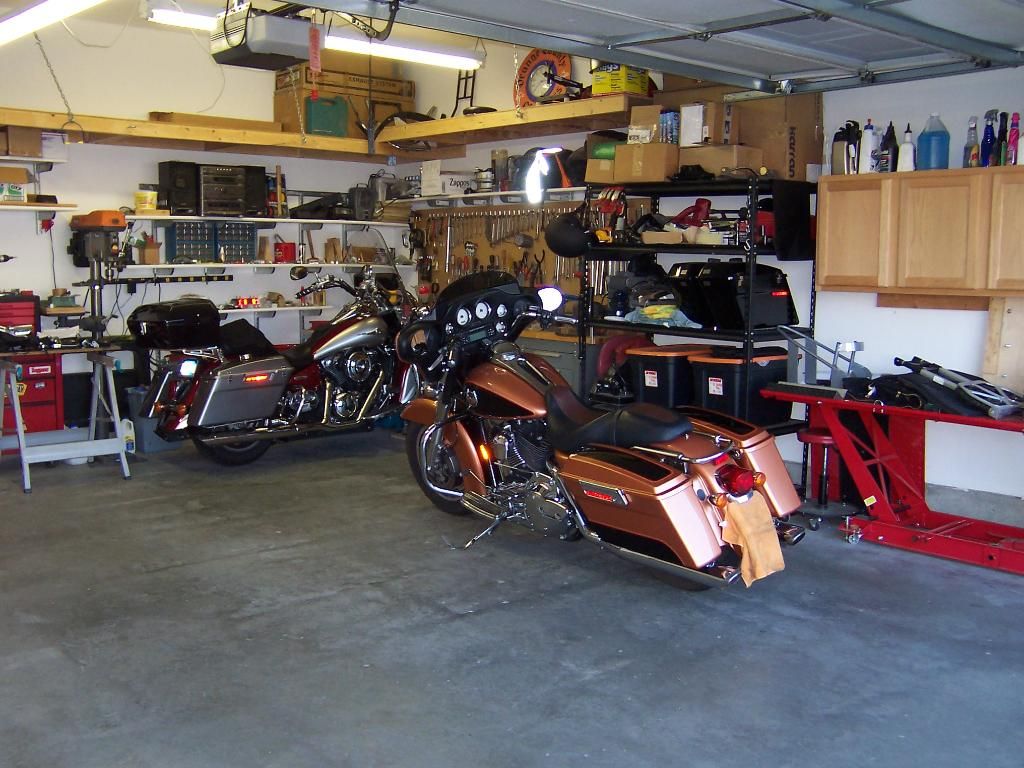 Senior Member
Join Date: Oct 2012
Location: Missouri
Posts: 513
Nice bike, welcome from Missouri
Welcome from Bryan, TX.
---
2017 FLHTCUTG
"I keep trying to think but nothing happens" - Curly Howard
Welcome from central Texas
Warning: Spelling errors in this message are the product of poor school standards. Pay teachures more than athletes!
Banned
Join Date: Jan 2012
Posts: 2,247
Welcome from Hollister, CA. Nice intro and sweet bike
.
Beautiful ride!! Welcome from Canada
---
FLHTKL Ultra Limited
FLHRSE4 Twilight Blue & Candy Cobalt
Poser Member # 99
Join Date: Jun 2011
Location: Thumb of Michigan
Posts: 10,950
Welcome to the Forum

Great look bike !!!


were waiting for the snow here in Michigan
Welcome to the forum from Virginia. Plenty of good folks and good information here.
---
God made everyone right-handed, the truly gifted overcome it.