Mongo, my daughter was 4YO in the that pic of us. I fee like if the kid can reach the pegs, they're big enough. I don't think there's any statute about it.
Banned
Join Date: Jul 2009
Posts: 18,205
I never had a bike when 2 of my kids were young. but my youngest two have grown up around them. I never take them for a ride without a sissy bar and without them wearing a helmet ( iknow, contradicting myself)
When my oldest daughter was 13, I would take her for rides alot, well, she would take me for rides..... I rode bitch, I would have to help her take off, but once we were rolling in 1st gear, it was all her. I was only there to put my feet down when we stopped, she could reach the ground, but only 1 foot at a time, bike slightly leaned, and she couldn't hold the Fatboy up.
that all ended when I put my ape hangers on, she cant reach them
Poser
Join Date: Sep 2009
Location: Florida USA
Posts: 4,427
---
Strat,,the Honda trail 70,,,yup mine was blue...

That Little bit of experience makes all the difference XD

there was a kid who also rode the trail 70,
Always on the back wheel,,,only,,lol
taught me to Pop a wheelie,,

His Name was Frank Popavic, Also had a Honda 350 4cyl street bike,
could ride It In the dirt or street for miles on just the back wheel.
---
We are Legion
Junior Member
Join Date: Sep 2012
Location: washington
Posts: 14
Haven't taken my oldest out on a ride yet more than just circling the parking lot in our apartment complex, but I remember going on longer trips with my dad when I was 7 or so. jean jacket, fitting helmet, gloves etc. not sure how nervous it made him but I definitely had a blast every time we took off for a cruise.

EDIT* my oldest is 5 and can reach the foot pegs comfortably.
---
Last edited by fox_doc8403; 09-26-2012 at

12:10 AM

. Reason: clarification
Banned
Join Date: Jul 2012
Location: Texas, Republic of
Posts: 72
Quote:
Originally Posted by
Junster
My little girl (4 at the time) used to love to sit on my lap while cutting grass on a lawn tractor. Noisy and uncomfortable but she will usually fall asleep in 20 mins or so and I had to hold her real tight when I noticed it. I bet my daughter WILL fall asleep on the back of my bike if I take her on a long ride. I'd take her for a short ride around town to get a ice cream or something but not a long rides.

She is now 13 and keeps begging me to pick her up after school on my bike. Such a show off like her dad... 8) 8)
Sir: Enjoy her while you can , kids grow up so fast and you can never get the time back.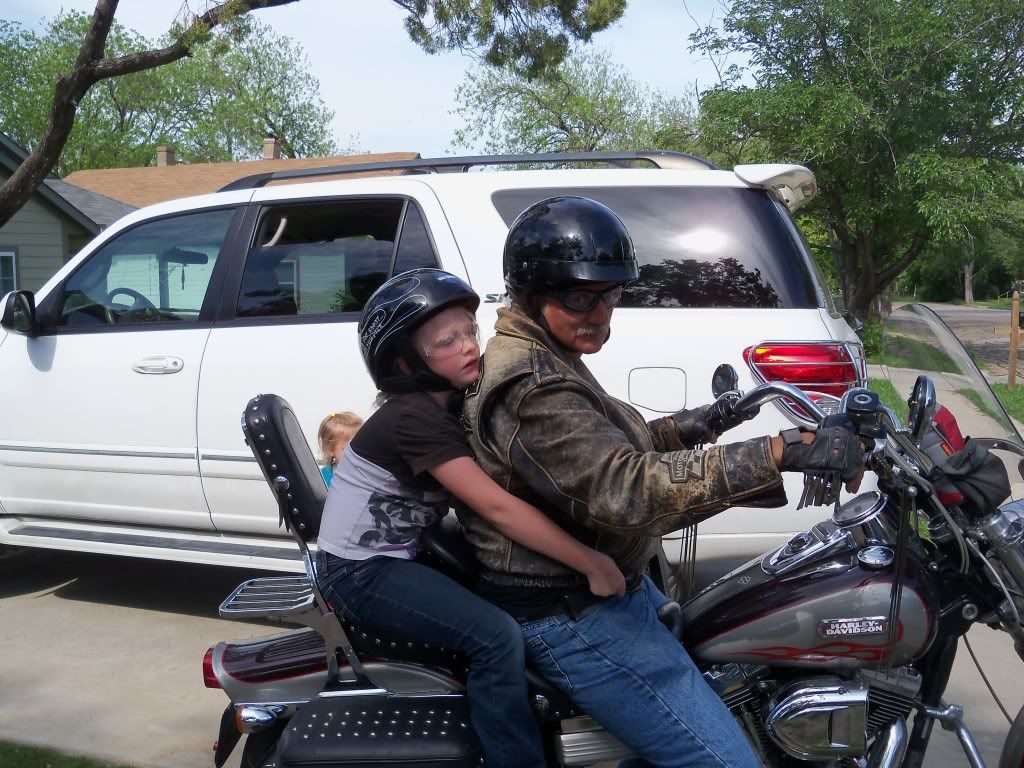 my grand dau on her first ride she loves it now was lil nervis first time
I rode with my dad every chance i got when i was a kid, now my little girl is big enough to ride (with her feet on the pegs) we will definetly be starting her out with a few short rides this summer. I cant wait and neither can she. she will be learning to ride on th esame bike as i did when i was a kid (i bought back my old man's shovelhead that he sold when i was a teenager)
[QUOTE=Dave63;372755]The law in my state, is that in order for any child to ride on a motorcycle as a passenger, their feet must touch the pasenger pegs, while seated correctly on the passenger seat. I have to agree with this 100%.
Isn't that how Mongo chooses his women?
---
2017 FLHTCUTG
"I keep trying to think but nothing happens" - Curly Howard
I may be unpopular with this statement but I would not take my kids on my road bike when they where small, to me the risk to gain just was not worth the risk.

That said I did teach my son to ride a dirt bike by the time he was four. And I would still be a advocate of keeping my son now 24 off of road bikes ( He still lacks the little bit of fear that keeps us alive)