Banned
Join Date: Oct 2009
Location: Algonquin IL
Posts: 302
new speedometer relocation kit
---
Got sick of the speedo sticking out like a sore thumb!!!!!
so ive had it. the speedo just kills the look, but a relocation mount cost over $150!!!! insane!!!
so i got crafty and made my own kit
where i put it and can easily see 0-70mph on the speedo without have to look over, so it think it will work out just great. the perfect medium between a funcional speedo and deleting it all together.
members of two thoer forums said i should make them and sell them, so i did, then i got banned at xlforum for not being a paid sponsor of the site. so whatever lol i would do the same here, but i wanna make sure im not gonna burn any bridges. ive been around here a long time.
anyway here are the pics. i really like how it turned out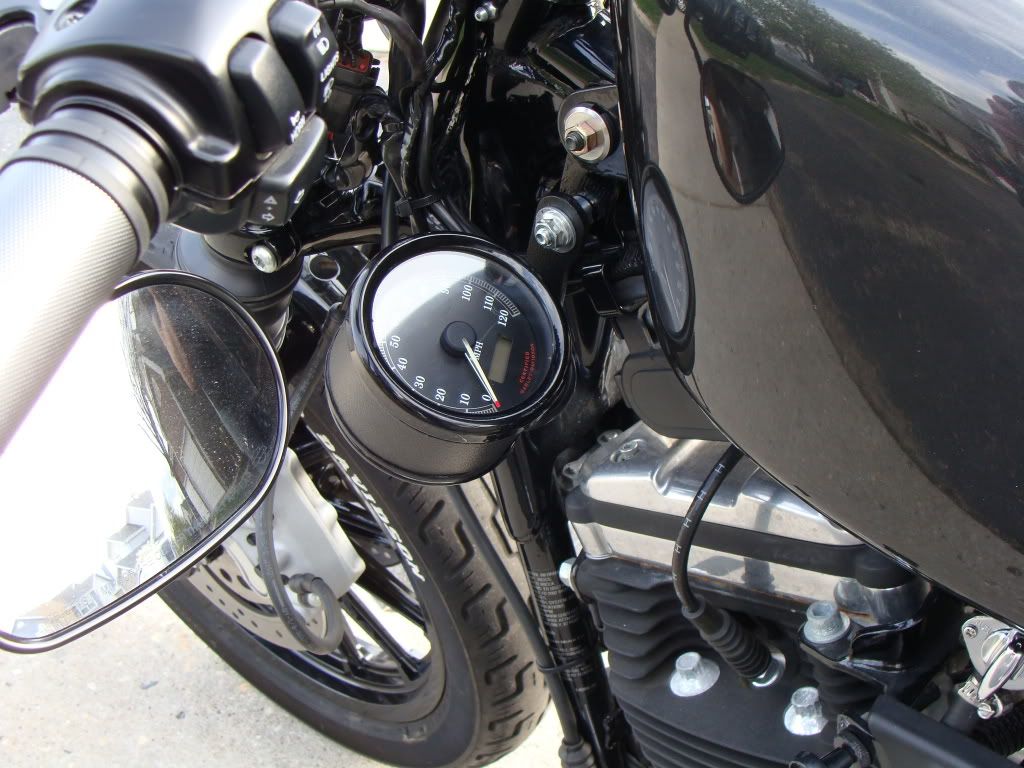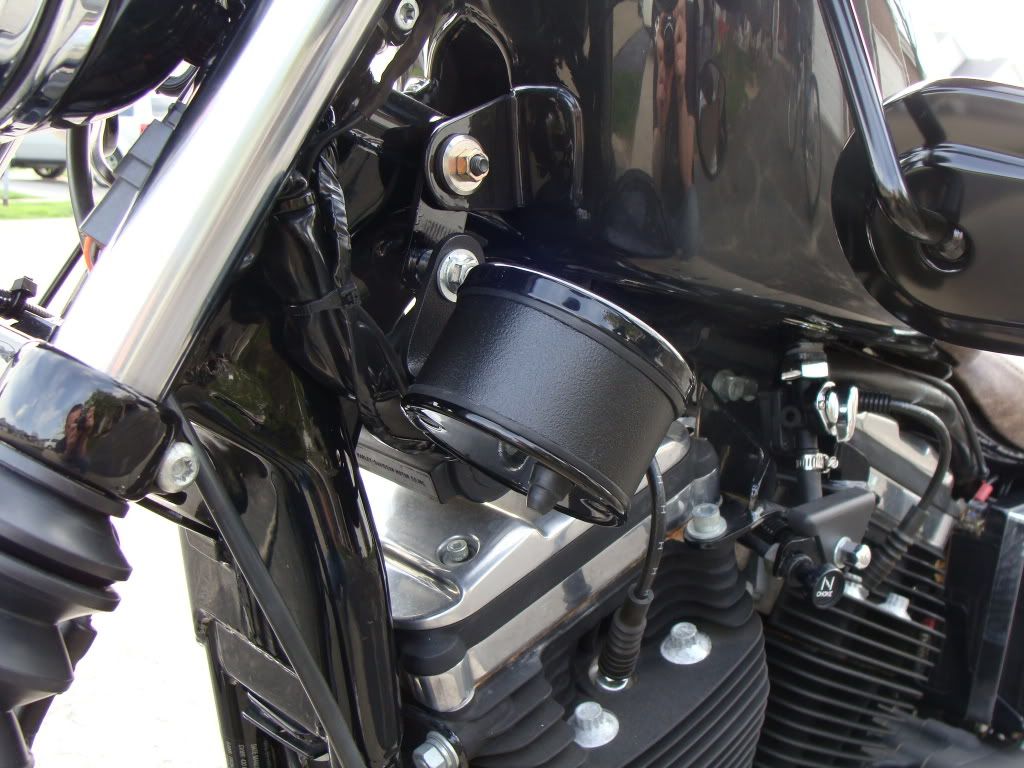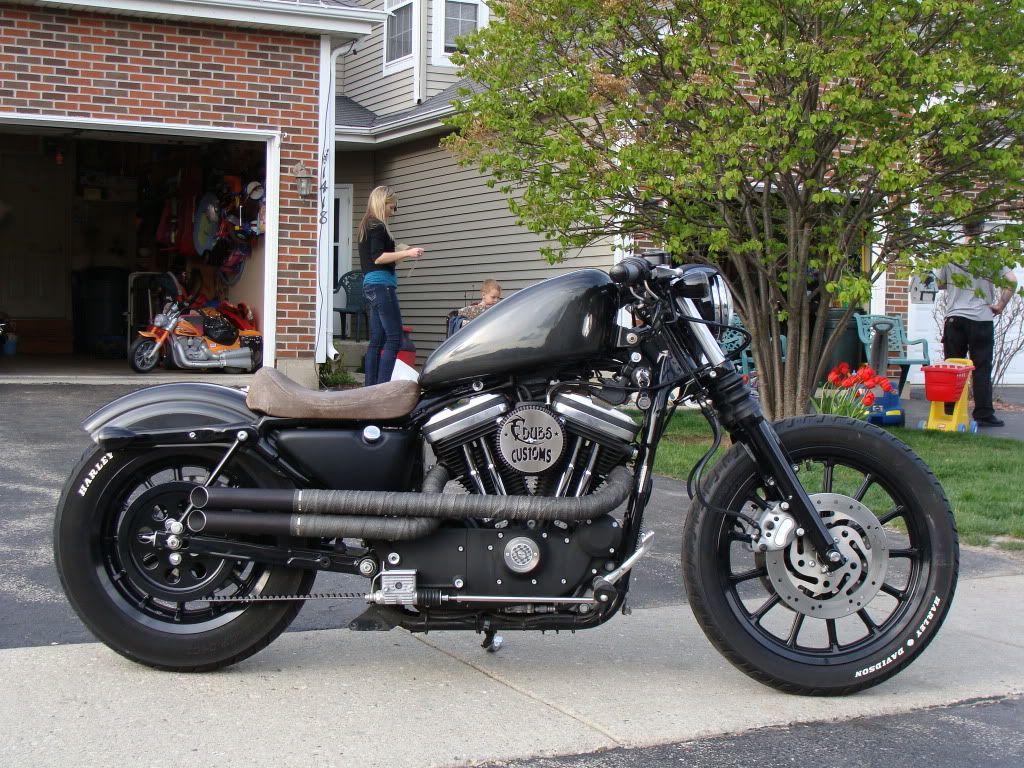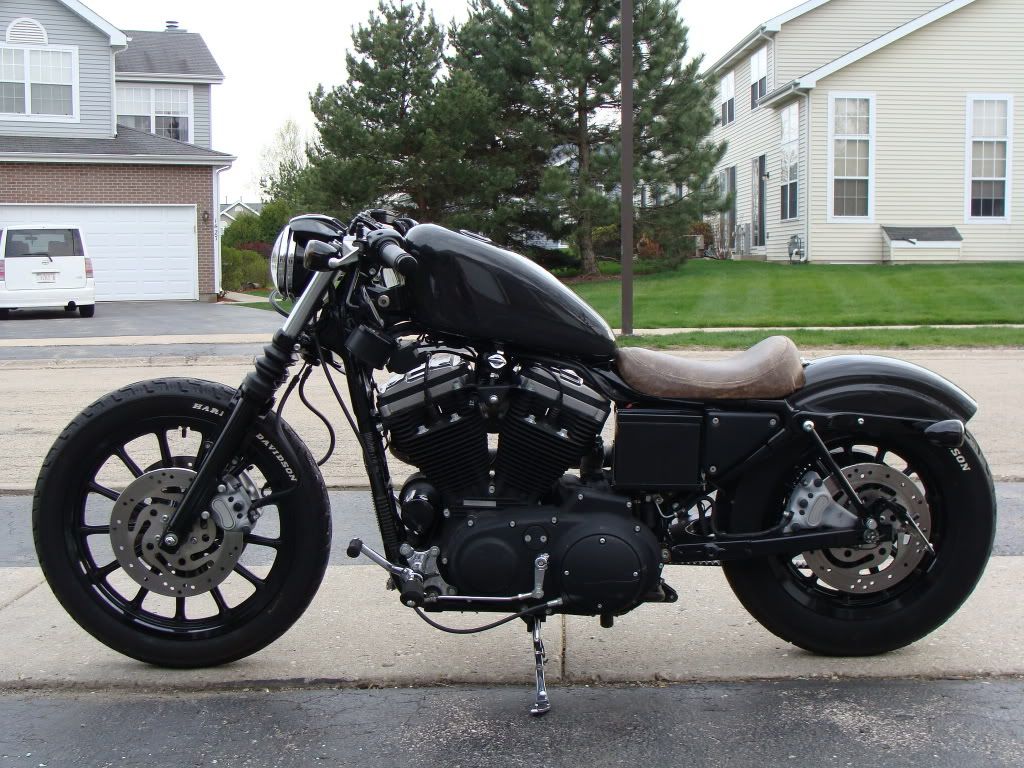 what do you do about the led indicator lights?
Banned
Join Date: Oct 2009
Location: Algonquin IL
Posts: 302
oh forgot that pic.....
an FYI, they are not LEDs. harley uses regular light bulbs
on my 02 they are led's. pulled the whole thing off and inspected them while i was putting a new set of risers on it. i am interested in this because after i installed the risers my speedo is sitting to straight up. i am trying to think of a way to resolve this, and i like your idea.

only prob is i have a steering stabilizer on the left and i cant judge if there would be interference with it and the speedo.

it looks like you cut the excess bracket off the indicator lights?

i'll check my stabilizer set up this afternoon when i go out to do some PM on it.
Banned
Join Date: Oct 2009
Location: Algonquin IL
Posts: 302
thats odd, i have an 02, the one pictured. and mine are regular tiny light bulbs. anyway, on the back of the whoe speedo houseing the light strip is held on with two tiny torx screws, you just take it aprt, and put it back together without the speedo housing. then i just used 3M double stik automotive tape to afix it to the handle bars. ill probably just get rid of it, ou can see the turn signals themselves if they are lighting up, i know when my bike is in nuetral and the other lights really dont need to be there.

BTW, you can put the speedo on right side of the bike too, i just have mine on the left, the bracket will work on either side. i just have to cut the notch for the wire on the other side, no big deal.
Banned
Join Date: Oct 2009
Location: Algonquin IL
Posts: 302
you can also get this hanldebar top clamp for your risers, it puts the dummy lights right in the clamp
harley part no. 56074-96
that looks awesome. nice bike too, is there another thread about your bike? would like to check it out
---
09 Iron 883
Shortshots
24inch Dragbars
Jokermachine A/C
Fuelpack
HD black diamond grips/pegs
Side Speedo
Needs - 1200 kit!
Junior Member
Join Date: Aug 2011
Location: Madrid
Posts: 2
looks really nice!
What seat is that? is awesome! i want it for my bike...
Banned
Join Date: Oct 2009
Location: Algonquin IL
Posts: 302
Thanks. The seat is a lepara bare bones that I had redone in buffalo hide!
Dam that is a nice bike you have ,the speedo looks cool there.
---
2011 Road King