Banned
Join Date: Jan 2012
Posts: 2,247
Quote:
Originally Posted by
squeekie
Yeah, it's too much work driving and keeping an eye out for LEO's. Especially when driving through a quaint beach town ( ie. Laguna Beach) where they sit on the curb watching for any little screw up.
Why not just weld a regular nut in place of the missing one? Or, don't even weld it in.
Just bolt and nut it
.
It didn't even dawn on me to just secure it with a nut and bolt . See...now that's why I love this place...to point out the ridiculously obvious
.
Thanks squeekie
.
In the wind
Join Date: Oct 2012
Location: Wa
Posts: 422
How do the quiet baffles sound with the throttle opened up?
I think it would work for me coming into a town or neighborhood, off throttle and have a quiet side, but have louder than stock mufflers when on it.
And wouldn't quiet baffles
still
be louder and free'er flowing than the stock mufflers?
I have ordered the V & H 3" slash slip-ons with quiet baffles - hoping for the best (with se intake and xied). ...Soon.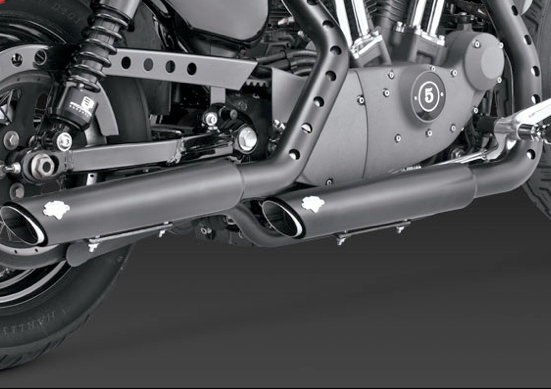 Yeah, the quiet baffles are louder than stock.
But performance suffered too much.
I will post video of my bike (above in video) with V&H standard and with Big City Thunders as soon as I get them.
---
Ward, don't you think you were a little rough on the Beaver last night?
2005 XL1200C Vance & Hines Staggered Short Stacks w/QQ Thunder Monster Baffles, D & M chrome spike air cleaner, 48, 185 jets, 12" Burly's, Mustang Cyclone solo seat, Progressive 412 shocks.
2009 FXSTC Vance & Hines Big Radius, V&H air filter, 16" RSD King Apes w/1 1\2" risers and 1 1/2" riser extensions, Progressive 422 shocks, Corbin seat.
Senior Member
Join Date: Mar 2012
Location: pocono Pa.
Posts: 109
If your baffels are to quiet , just punch out some of the slots , holes , to a larger size .
Easy does it , You have nothing to loose if you are planning to replace them anyway.
A step drill bit works good . Even a pair of tin snips can work . Dont deform or bend the baffels , you may get them back in ....
You can tune for power as well as sound .
Thats how we done it "back in the day"s of no money , and no internet to chase down parts.