2004+ Sportster Clutch Information, How to Replace (may aid in pre 04 bikes as well)
---
Edit: If anyone sees anything wrong in my info or can clarify anything better than I did please let me know so I can fix it.
Hey guys thanks to blowing up my clutch on my 05 Roadster at only 30k miles I felt that it would be good for me to post some things I learned that you should know about your 04 up and, if worst comes to worst how to remedy the problem.
Before I start I must attribute much of this information to the interwebs, and other members of the forum most notably
Dave63
and
Kainam
. I did not come to all of this knowledge on my own but I really want to see it all in one place.
Wet clutches in general are pretty well known to be "indestructable" and to "last the lifetime of a bike" IF (big if) maintained properly and not abused. The Sportster is no different except for one issue. Harley decided to add whats called a spring plate into center of the clutch pack. (Pictured is my destroyed one.
It is essentially two drive plates riveted together and it is supposed to help broaden the friction zone and make the bike a little smoother when letting out the clutch (or so the internet tells me).
Regardless of its exact function it is known to be a weak spot ESPECIALLY on bikes that are ridden spiritedly. As you saw above (and below) the BRASS rivets are too weak and break off leaving you with something like....keep in mind those should be a few mm apart not half an inch!
What years are affected????
Well some internet resources say that they made a stronger version in 2007 but based on what comes up in a google search i am not so sure.
https://www.google.com/webhp?sourcei...late%20failure
'
That is a lot of people talking about it!!!
What should you do?
If your bike has less than 20k and is not abused...nothing. If you are reaching that point or more miles though here is a BIG indicator of the failure (from my experience) for months my clutch would grip right off the bars and could not be changed with adjustment. It was rideable and at the time I thought I was crazy but I wasn't..it was breaking slowly but surely for about 3k miles I feel like.
If you are feeling this you can take your chances but I would recommend one of two things.
1. Buy two stock steel (drive) plates and one friction plate and eliminate the Spring Plate. This will leave you with a very stock like feel and a good reliable strong clutch for years to come.
2. Buy an upgraded clutch kit with kevlar or carblon fiber plates that comes with "extra plates" and is used without the Spring plate
Example of one I bought
While you are in there you can also buy an upgraded diaphram spring for the clutch. What this does is increases the clamping force on the clutch. Note: this will make your clutch pull harder...keep that in mind when deciding to stay stock or not. The advantages of this is that your clutch can handle more power if it is clamped together tighter. If you never plan to modify your bike for more power it is probably a waste of money for most realistically. I went with one that is 15% stronger than stock FWIW.
"Alright XL1200,,,,for the love of God just show us how to rip the damn thing apart!!"
Ok...geeze..calm down...
Here is a thread by yours truly on how to get the primary cover off and get to the clutch which is 9/10ths of the work IMO.
https://www.harley-davidsonforums.com...sportster.html
and here's the clutch disassembly.

1. You need to buy a special tool to do this. Otherwise you may (probably will to be honest) damage the diaphram spring in the clutch.
Here is the style tool that I used...(big thanks to my buddy Dave (not Dave63) who let me borrow the tool from him to do this.)
2. In the picture you see the whole tool that I am holding in my hand and the threaded rod with a long nut on it basically. What you want to do is thread that rod (done in the picture already) onto the clutch adjuster. Use a long thin flat blade screwdriver to hold the adjuster screw as you turn the threaded rod over it.
3. Then, screw the tool onto the threaded rod like so and use a 9/16ths box wrench to hold the nut on the threaded rod.
4. Start turning clockwise on the handle (in my hand) while holding the box wrench to compress the spring. Don't go too far with turning the tool...you should go one full turn MAX on the tool to remove the c-clip that holds the clutch diaphram spring on. Turning it anymore can deform the spring and require a new one.
Note: the clip is a bit hard to get out. There is a "seat" to the clip that has shoulders on it that block the clip from coming out easily. You have to carefully pry a bit using a screwdriver, and some snap ring pliers and you will eventually get it out. Take your time and make sure the seat is moved out of the way before you squeeze on the snap ring pliers or the c-clip won't go anywhere. At first it looks like it can't even come out but it can.
Now the clutch plates are exposed and the rest is simple. Pull out all of the plates using your hands and eventually you will need small pliers or a screwdriver. Once they are all out you can replace or do whatever your doin' in there...sightseeing,,,I don't know none of my business!
Dazz it! Hope it helps I know it isn't the most in depth tutorial in the world but honestly it isn't too hard so I don't think it needs to be! Ride on!
---
Very useful thread. But need to check links to the photos. Not showing for me.
To remove the clutch plates, I used the combination of a small screwdriver and one of those telescopic magnets... the plates are held in there by the surface suction of the oil between plates... so a little wiggle with the screwdriver to break the suction and the magnet pulls it out.
Also, something I came across after I had finished mine... but for the next guy that is doing this... might not make a difference but I think it is worthwhile to do so...
Quote:
Originally Posted by
fastgary
...
The head mechanic at the Harley shop gave me a tip that I didn't read about in the shop manual and that I didn't notice anyone here mentioning. It is about placing the stack of clutch plates into the clutch drum. The steel plates should be facing the same direction. All steel plates are manufactured by being stamped out of a machine. After they are stamped, one edge will be sharp and the opposite edge will be more rounded and smooth. It doesn't matter if they are facing in or out, just that they should all be facing the same way...

Thanks again, fastgary
Also, in addition to the clutch pack (or plates if only changing the spring plate), have a new retaining clip and spring seat. Best to use a new one when installing everything back. In my case, with such low mileage (less than 4K), everything looked like new, so I kept the new ones as spare for any future job in there (but I hope I never need them, lol ).
Steps outline in workshop manual (All this was done on a 2013 48 with less than 4K miles on it...so the references are for a workshop manual of that year):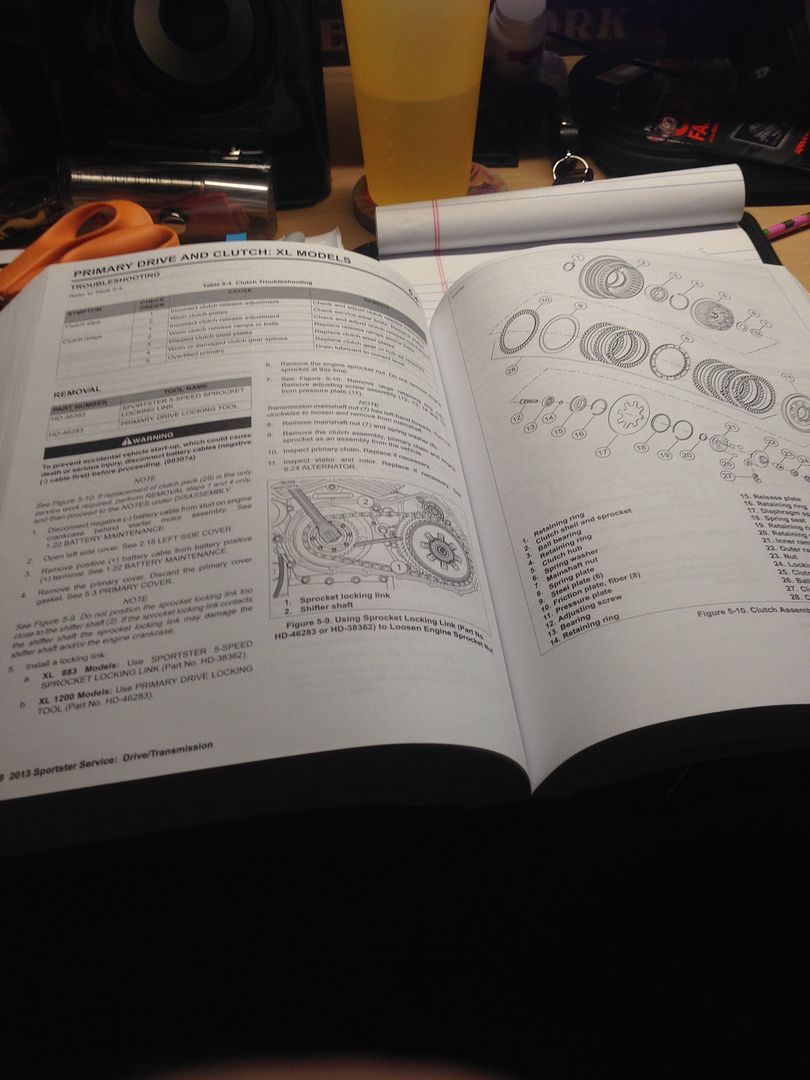 Section 5.3 (page5-4) for Primary Cover removal
Section 5.4
For Removal of clutch pack: Page 5-8 ; Step 1-4 and Page 5-10 ; Steps 2,3,4,5,and 7
For Assembly of clutch pack: Page 5-12 ; Step 1,3,4,7,8,9,10,11,12,13
Part numbers of what it is required: I order most of it through Amazon and saved a few $$
Gaskets I got as a
Primary Cover Gasket - Part Number: 34955-04
Inspection Cover Gasket - Part Number: 34990-08
Derby Cover Gasket (quad ring) - Part Number: 25463-94A
O-rings - Part Number: (2) 11171 for Inspection cover, (1) 11105 for Oil drain plug, (1) 11179 for Clutch cable
Shift Bushing - Part Number: 40574-06 (not sure if I needed, but just in case)
Shifter Shaft Oil Seal - Part Number: 37107-06
2 quarts Formula+ primary lubricant - Part Number: 62600004 (Only one is needed but I want to change the oil again in about 500-1000 miles)
Spring Seat - Part number 37872-90 (Recommended to have a new one ready to use when installing everything back)
Retaining Ring - Part Number: 37908-90 (Recommended to have a new one ready to use when installing everything back)
Clutch pack: I went with Energy One with the 15% stronger spring-
And the tool (must have the right tools for the job) -
Total was 189.83 for the parts listed including shipping (minus the oil, spring seat, and retaining ring, that I bought at the local dealer).
And the reason I did this with a bike with such a low mileage? For peace of mind. After seeing photos of this:
This is a picture of the stock spring plate. The two plates are held together with the springs that are riveted with brass rivets which sheared off. The assembly is in between the regular clutch plates.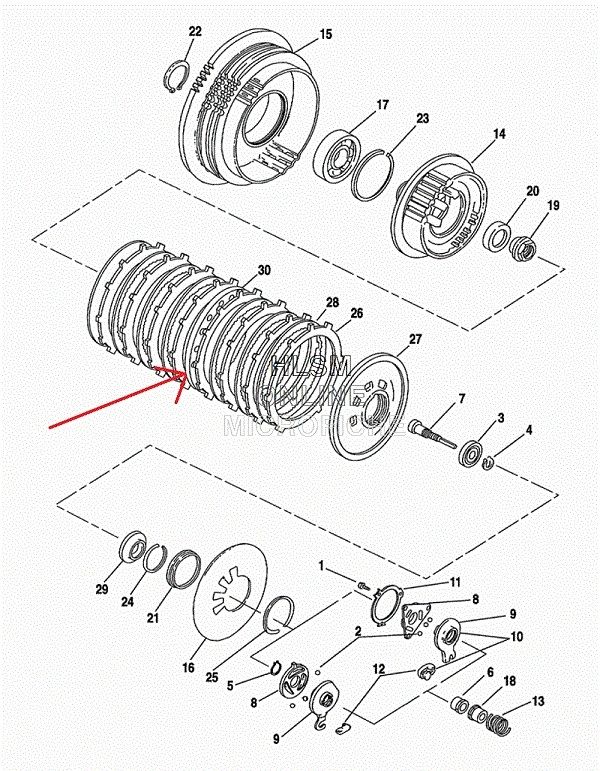 I did not wanted to take the risk of that happening to mine... some folks can go 80K miles without issues, others with as little as 15K miles have problems with the bronze rivets giving away and messing up the clutch basket.... a costly repair.
As mentioned, you can replace that spring plate with two steel plates and one friction plate, or replace the complete clutch pack with a Screaming Eagle Clutch kit, or aftermarket from Barnett or Energy 1... Depending on what clutch you go with, pay attention to the oil recommended by the vendor. If I remember correctly, the HD SE and Energy One option will allow you to continue to use the Formula+... Can't remember if Barnett recommends something different.
Thanks again to the OP for this sticky as it helps many folks, like me, that are afraid to tackle this task thinking that it is to complicated for a diy.... it is not.
---
Last edited by wachuko; 06-13-2015 at

04:01 PM

. Reason: Forgot to call out that I went with the 15% stronger spring
Since this is a sticky, if okay with the admin and OP, I will post what I did as well. Feel free to delete if not needed.
All this was done on a 2013 48 with less than 4K miles on it...
First I need to remove the floorboard and shift linkage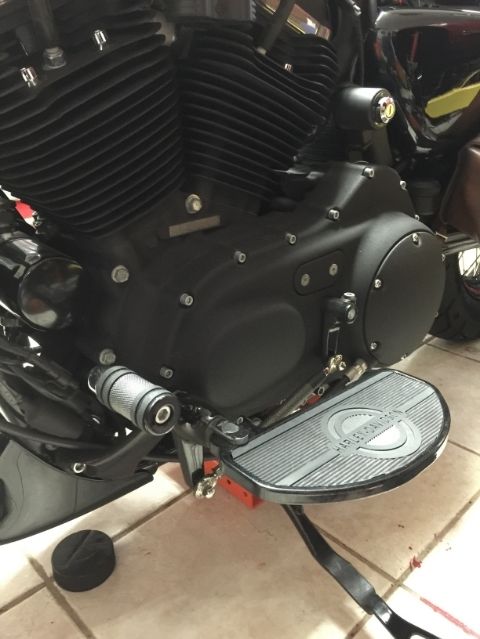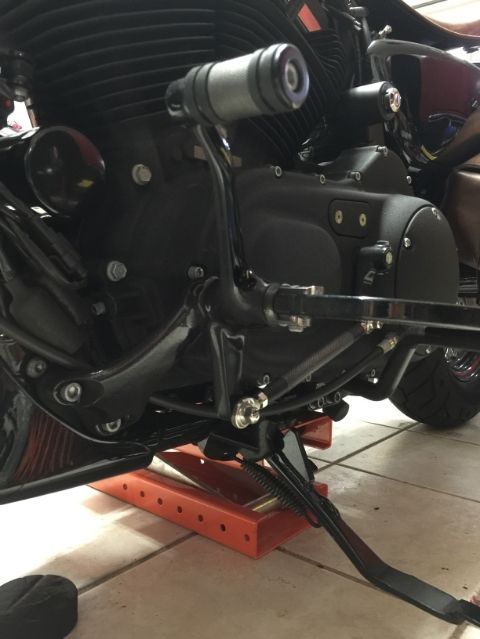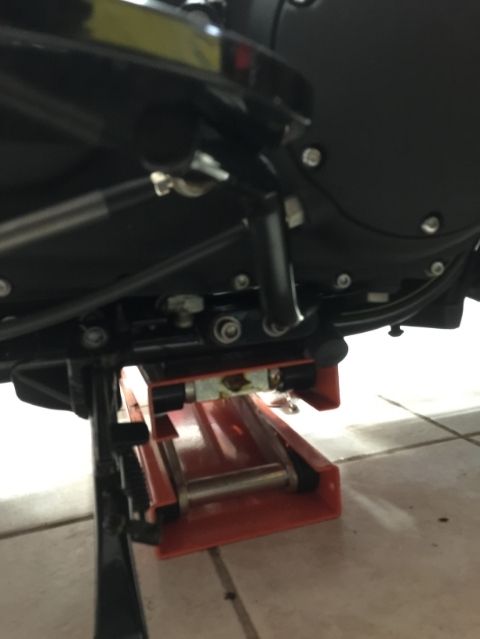 Not sure if this goes in one way, but did not wanted to take chances... used some white liquid paper to mark the shaft and linkage so it goes back the same way when installing...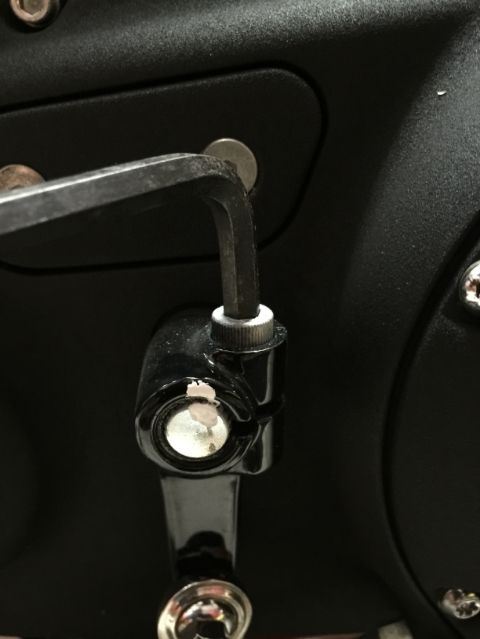 Bolts out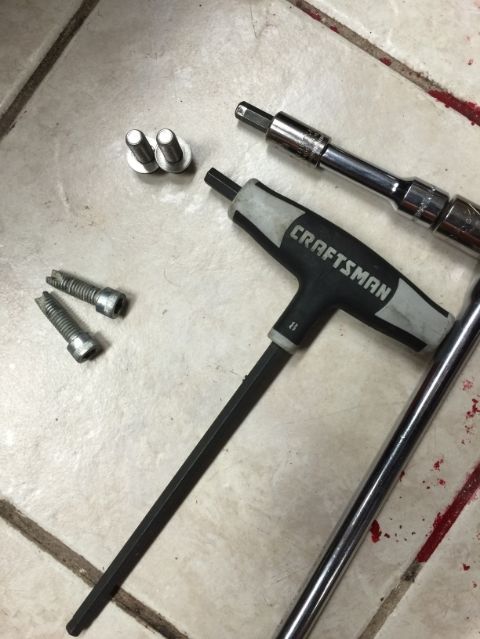 Assembly out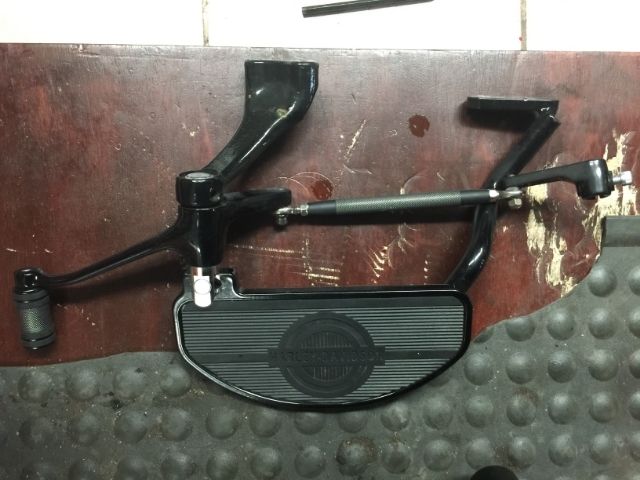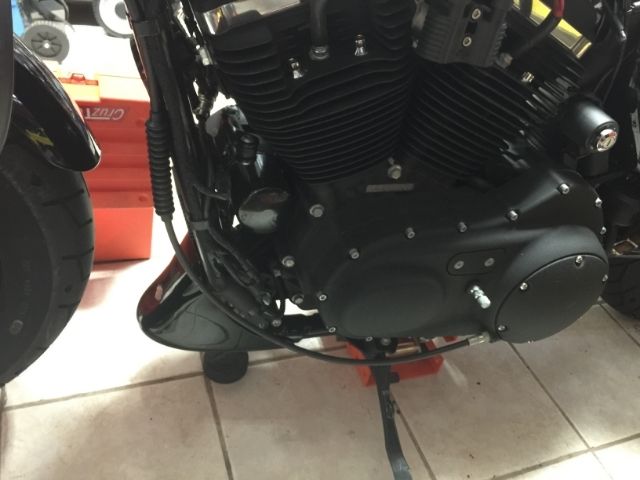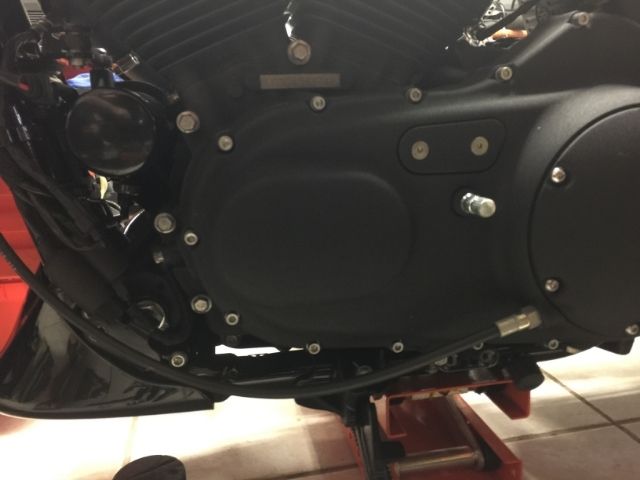 Loosen clutch cable adjustment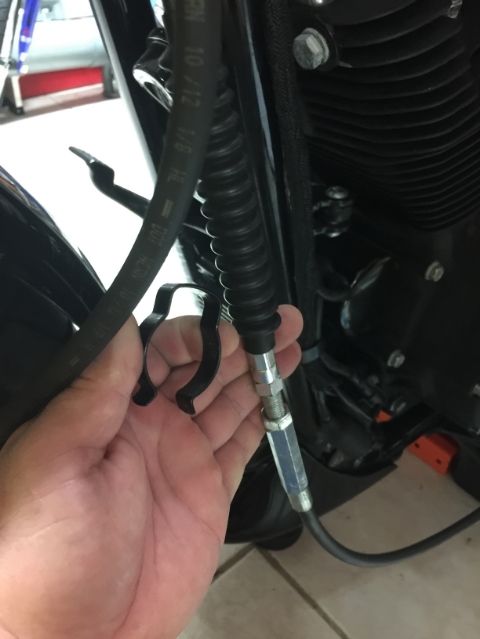 Drained primary oil
Loosen chain tensioner - I followed the recommendation from Chris on just loosen enough to turn so that I can get it back to the previous position quickly.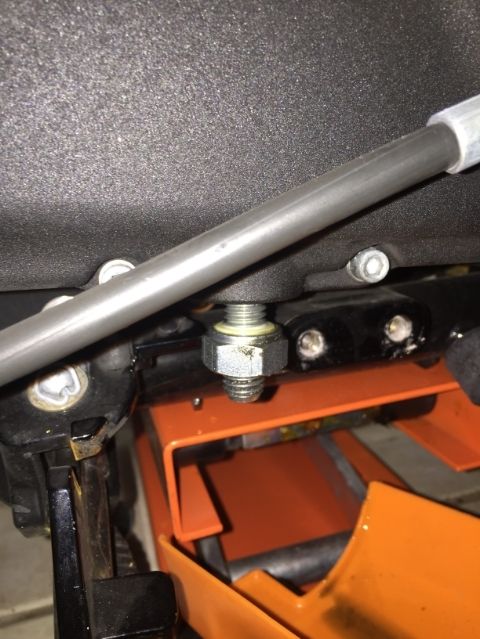 Remove cover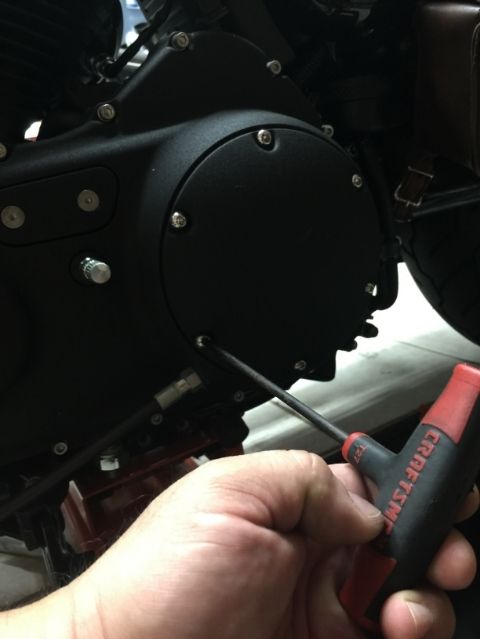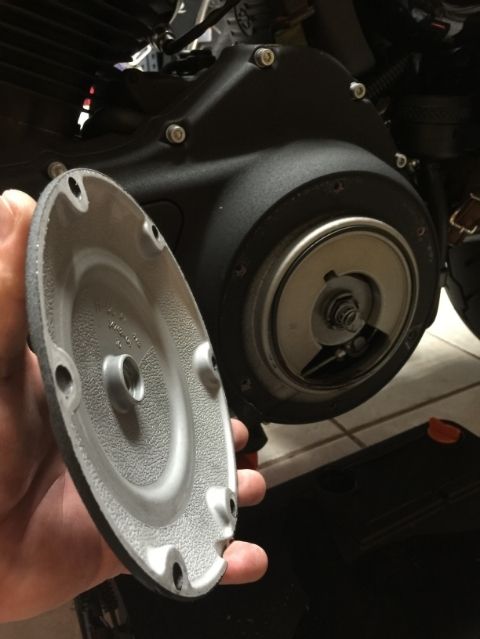 Remove spring with retainer nut
Using a small screwdriver (because it will need to go inside the nut to completely get it out), turn the adjuster screw clockwise until the nut comes off...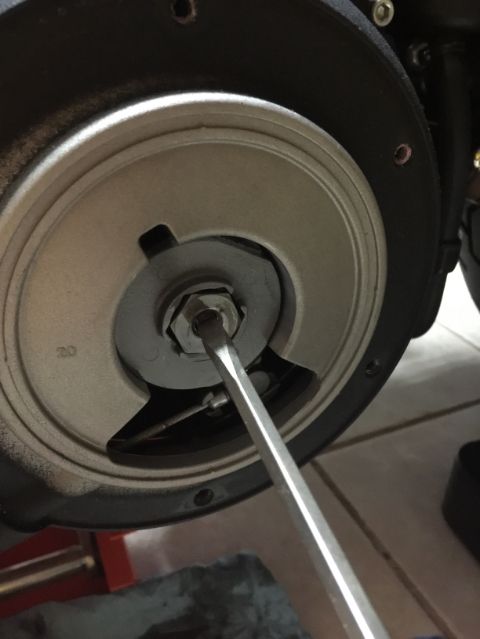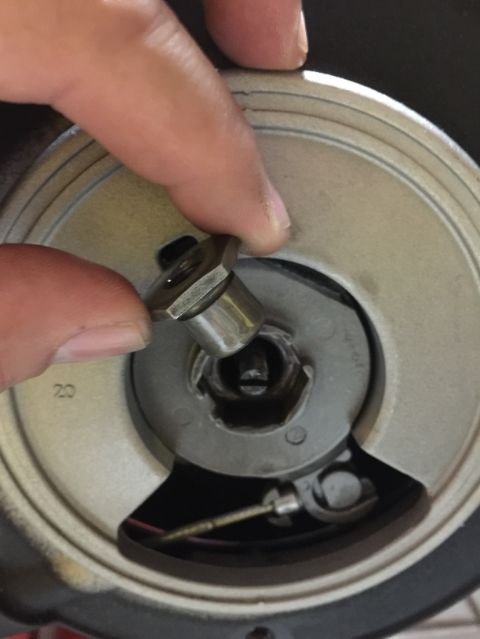 Slide out the ramp assembly and unhook from cable coupling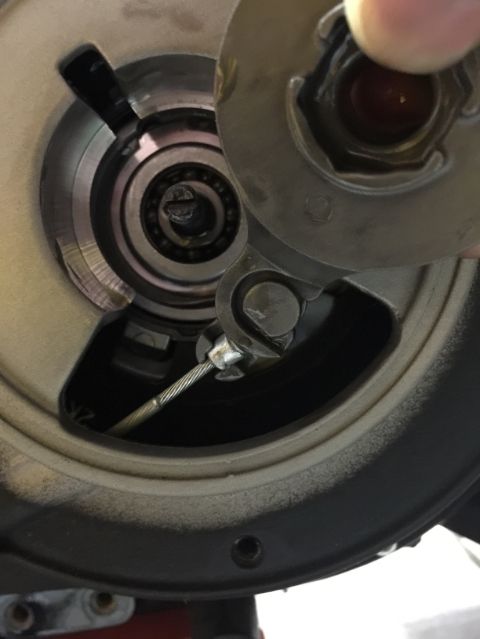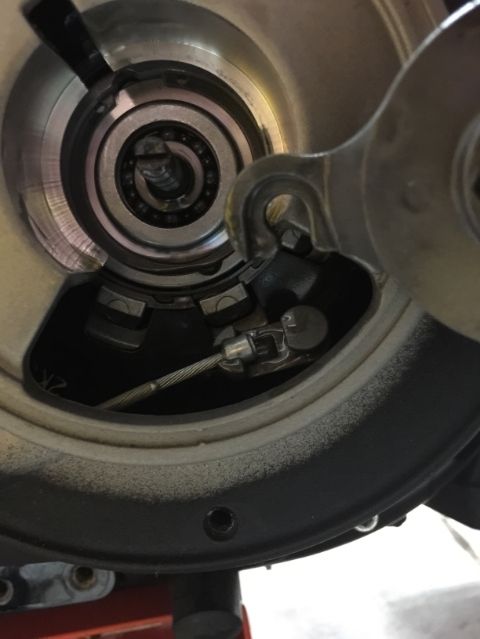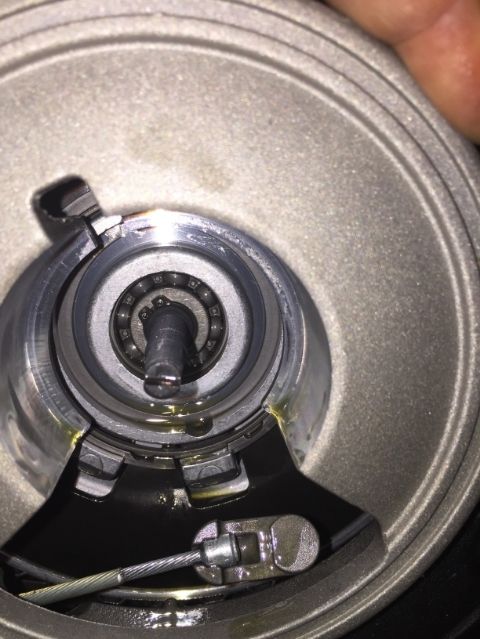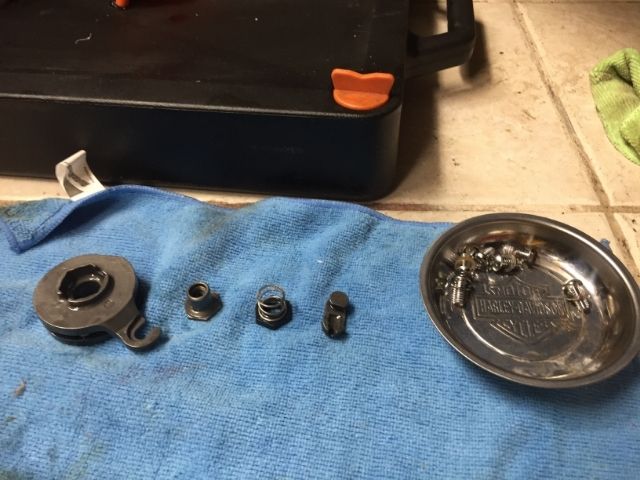 At this point you could remove the clutch cable... but all the threads and posts about this mentions that you can leave it in and avoid dealing with another seal... since the bike has less than 4K miles, I left it in place.
Now to remove the 16 bolts that hold the primary cover in place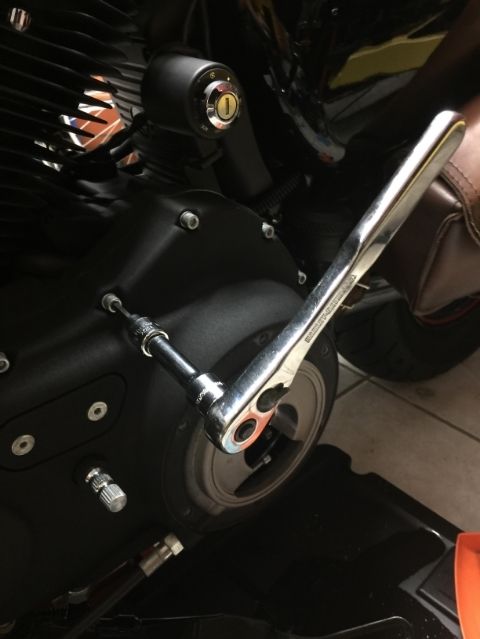 I had made this from the cardboard that the new gasket came in... turns out that there was no need... in my motorcycle, all 16 bolts are the same length.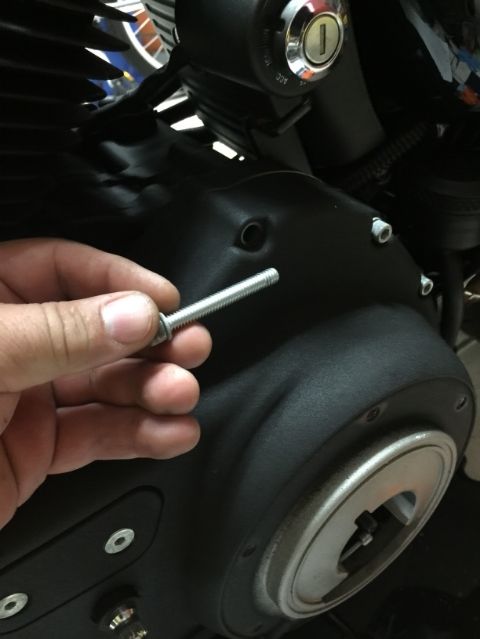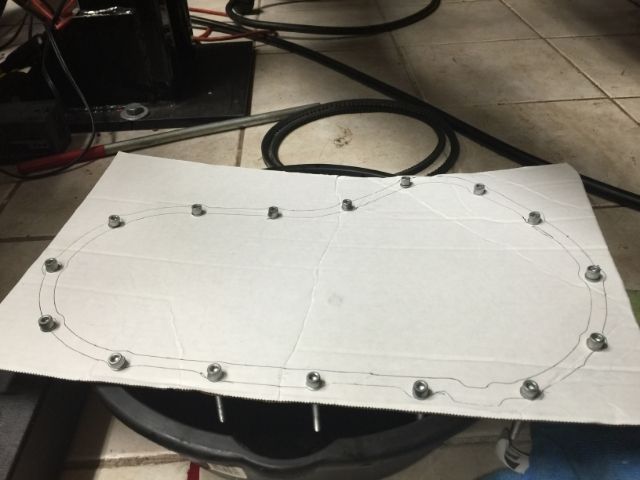 All bolts out... but before I slide out the cover I need to put some oil in the shifter shaft to avoid damaging the inside seal.. Also, before you do that, and depending on the condition of the shifter shaft, be sure to clean it well with a wire brush if it has surface rust... again, all this is to avoid damaging the inner seal in the primary cover.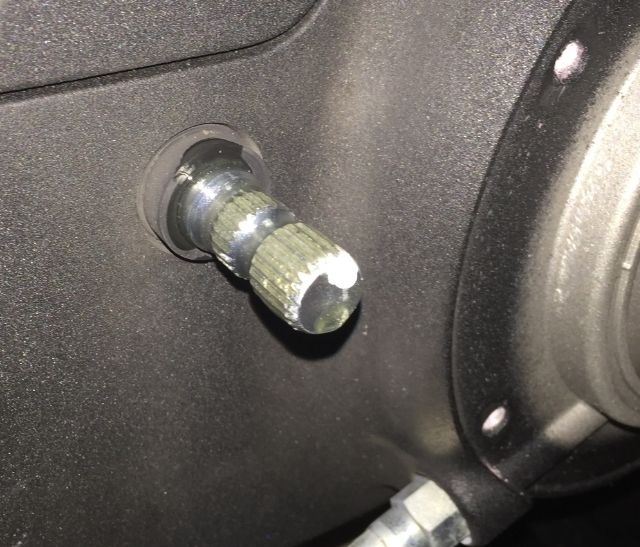 Cover out...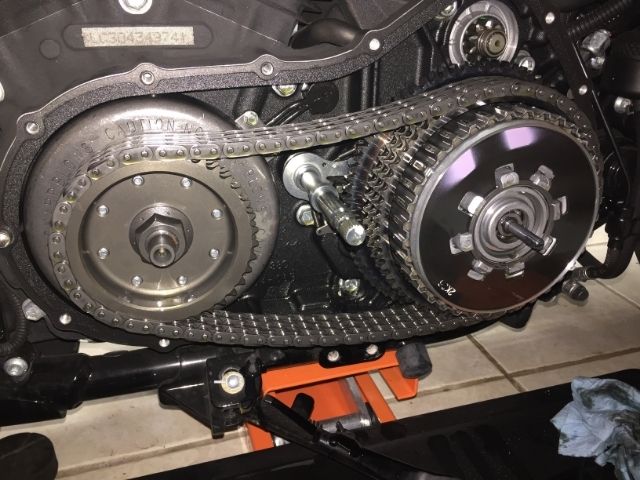 Now to remove the retaining ring clip, spring seat, pressure plate, and spring plate... this is where the cool looking tool comes into play..spring compressing tool.
Bolt this to the adjuster bolt. I had to use a small screwdriver to prevent the adjuster bolt from turning while I screwed it on.
Tool in place. Make sure it is position correctly against the spring.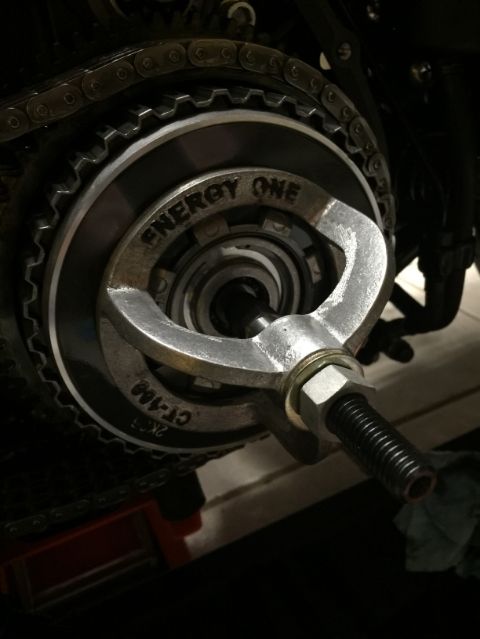 Follow the instructions in the workshop manual... adjust in small increments. Just enough to be able to remove the retaining ring... or you run the risk of damaging the pressure plate.
Here you can see the retaining ring and spring seat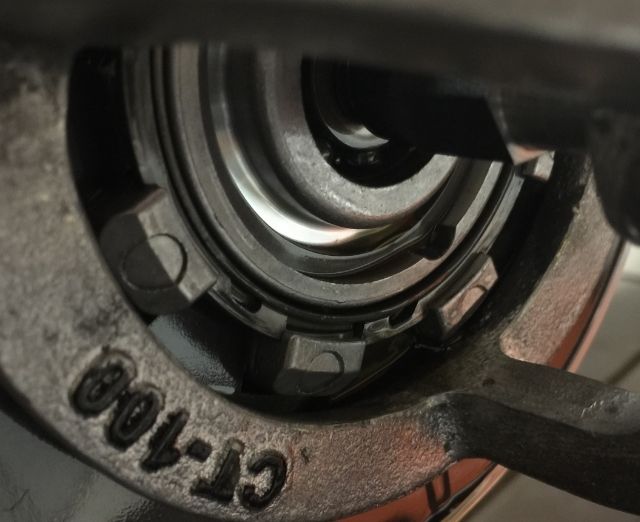 I will not lie... after reading the warnings of possible damage to the pressure plate, I was afraid of compressing the spring plate too much... so this is the part, for me, that took the most amount of time... Once I was able to close the retaining clip enough to pull out one end, with the help of a small screwdriver, I was able to remove it completely...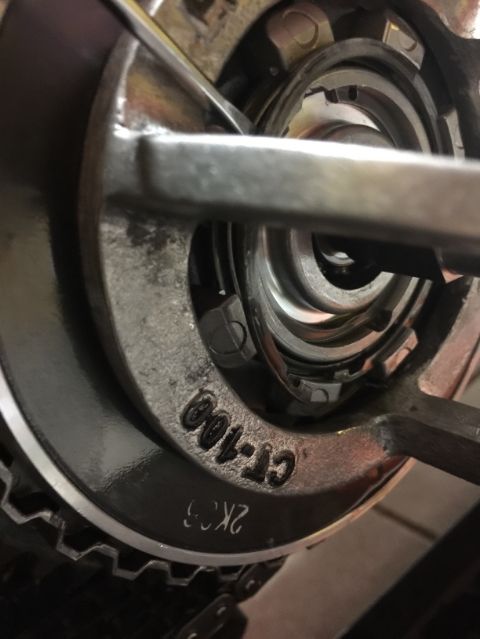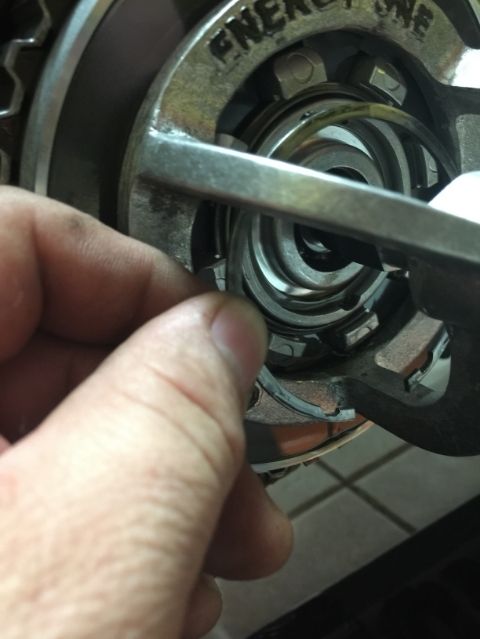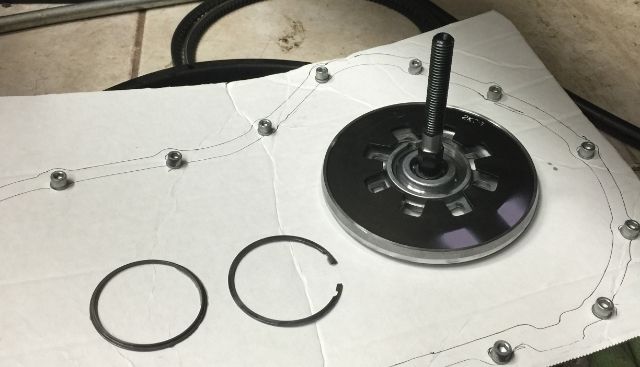 From left to right - Spring seat and Retaining ring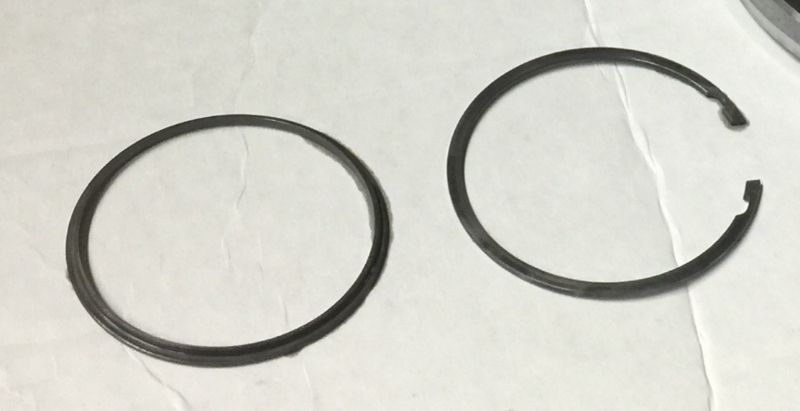 I used one of those magnetic rods. Made it easy to pull them out. First I had to use a small screwdriver to break the bond between plates (they are held in with suction from the oil on them). Plates coming out... using the magnet and small screwdriver.
Halfway through this, if original clutch, you will see the reason why we do this... again, my bike has very low miles, so the condition of everything in there is close to as new as you will find... but this was all about prevention.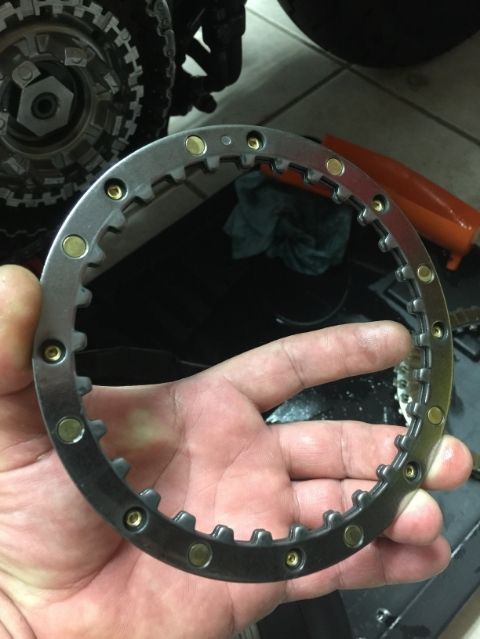 Original clutch out... and put away in the box the new one came in...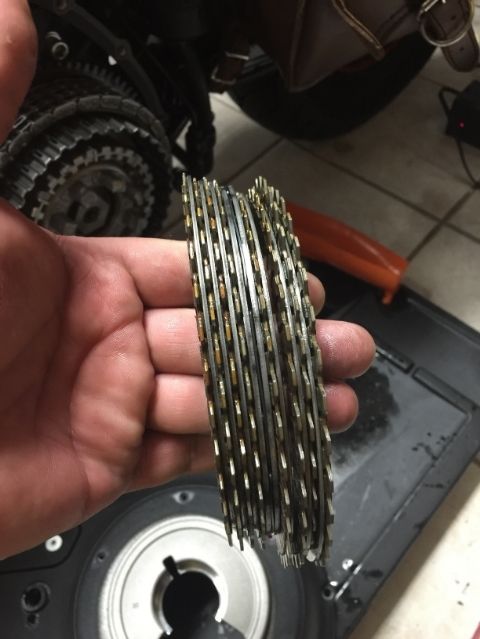 This is the moment where you wished you had follow the directions early on... I forgot to soak the friction discs in a bath of oil... and it needs to soak for at least 15 minutes... so it was beer time... took a break that lasted about an hour...
Got a plastic container, poured some Formula +, and placed one by one to make sure they got a good bath... did this only for the friction plates, no need to do this for the steel plates as those will not absorb anything...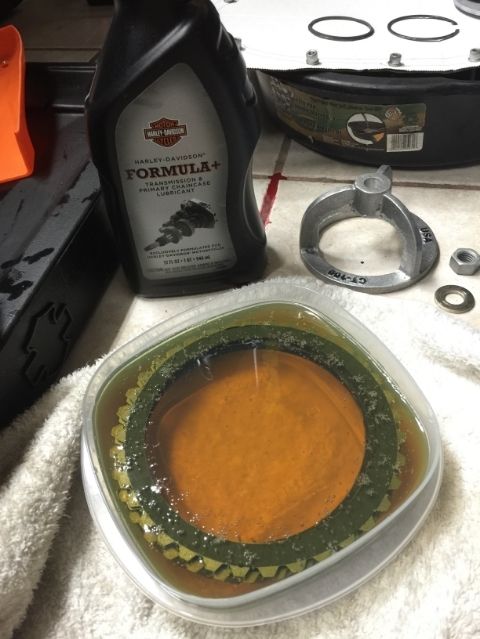 After the break I started to install the new clutch... instructions call for starting with a friction plate, then a steel plate, and keep going until all of them are in. You should finish with a friction plate. Glad to see that I did not get confused on this task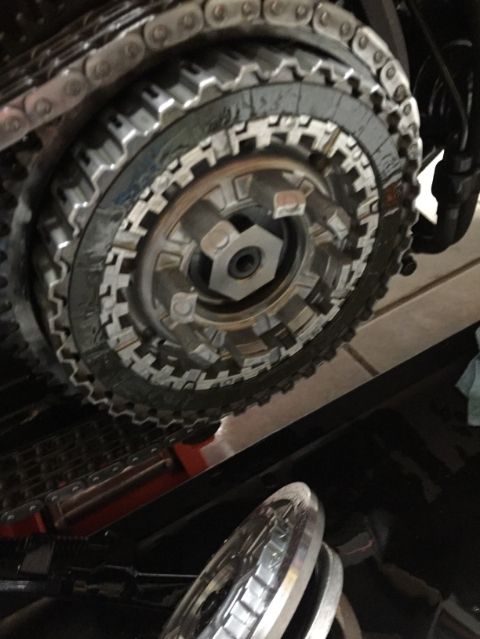 Now to install the Spring seat and Retaining ring... well this also took a lot of time. Again, because of my worry of damaging the pressure plate...
I had forgot to write down the direction of the Sprint seat... this is where the workshop manual comes handy. Page 5-21 describes the direction. Larger outside diameter side goes toward diaphragm spring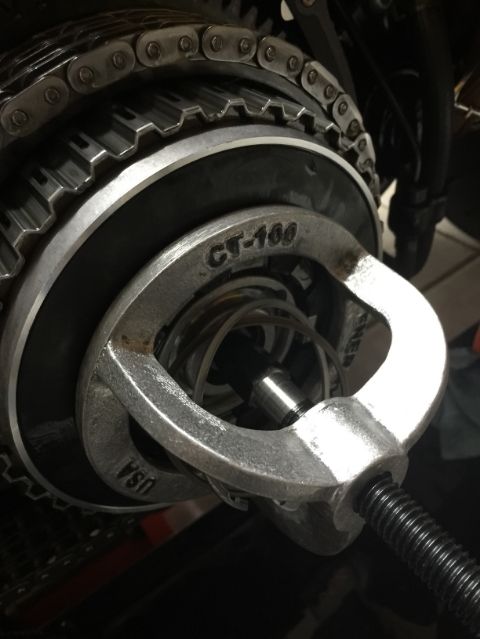 Took a lot of time but looking good... all in place.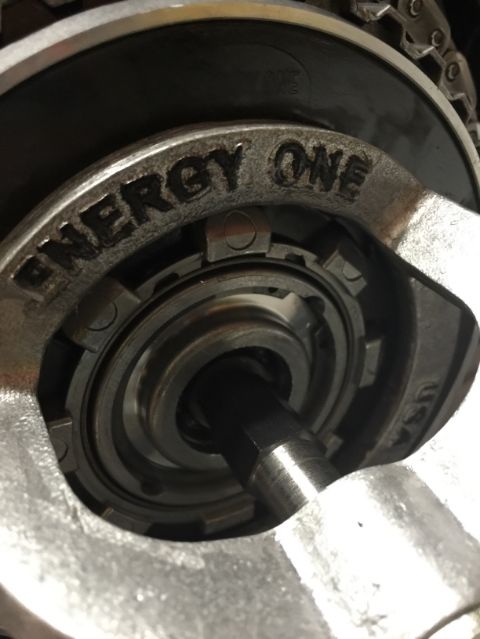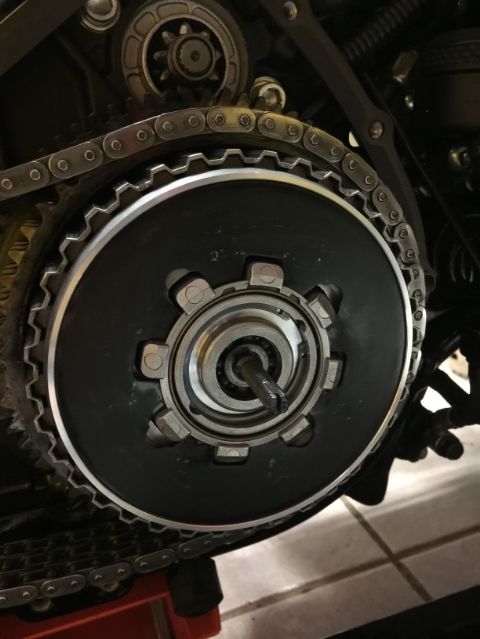 New gasket in place...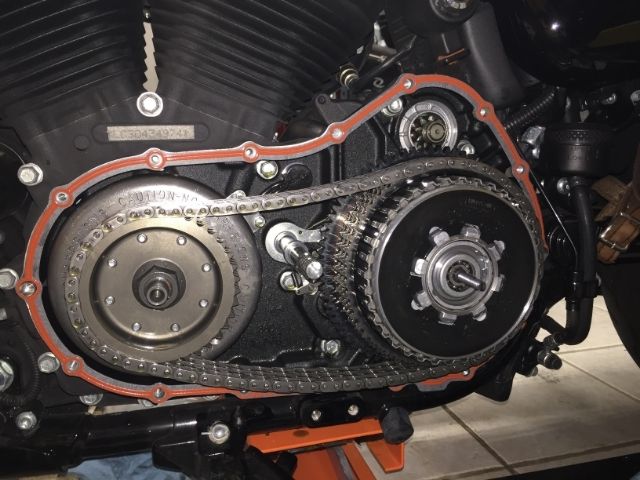 Now to install the cover and torque the bolts to spec... there is a specific order so be sure to follow that. This is listed in the workshop manual. In mine it is page 5-7. These are torqued to 100-120 inch-lbs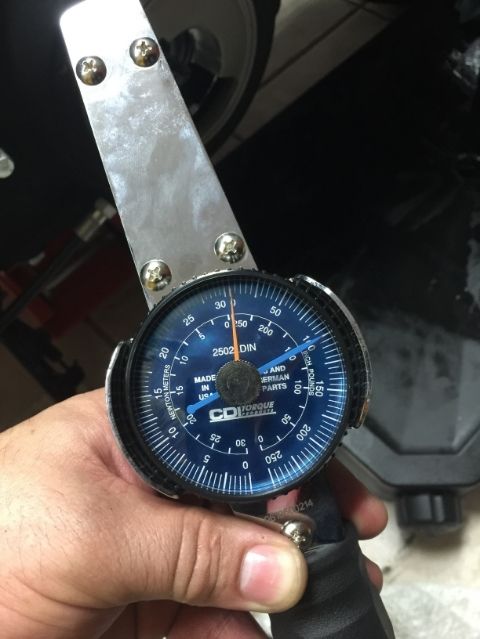 With the cover back on, chain adjuster back in, drain plug (with new o-ring) installed... time to fill with Formula +
From the photo, I noticed that I might have overfilled a little bit... will remove some of the oil. Workshop asks that you fill up to the bottom where the clutch spring plate starts... you can see that it is about 1/8" higher than that. Overfill can cause clutch to drag...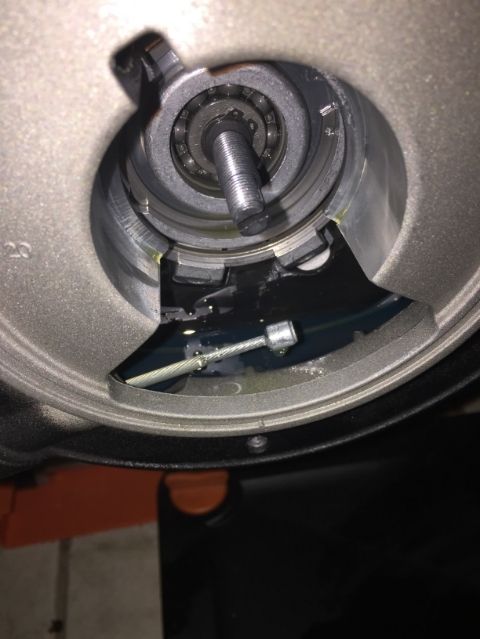 Now to install everything back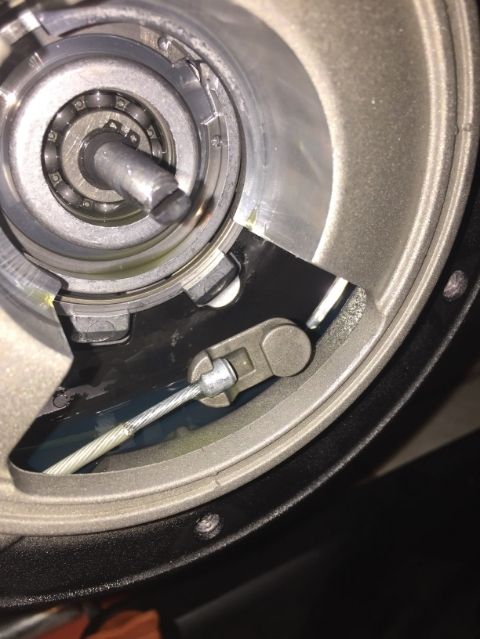 Adjust clutch as per workshop manual... turn adjustment screw counterclockwise until resistance is felt then turn clockwise 1/4 of a turn.
Install hex lock plate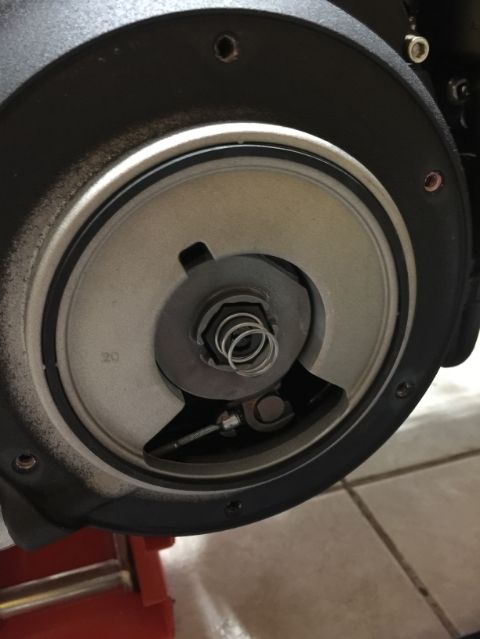 Install new quad ring seal, inspection/derby cover, adjust clutch cable and done!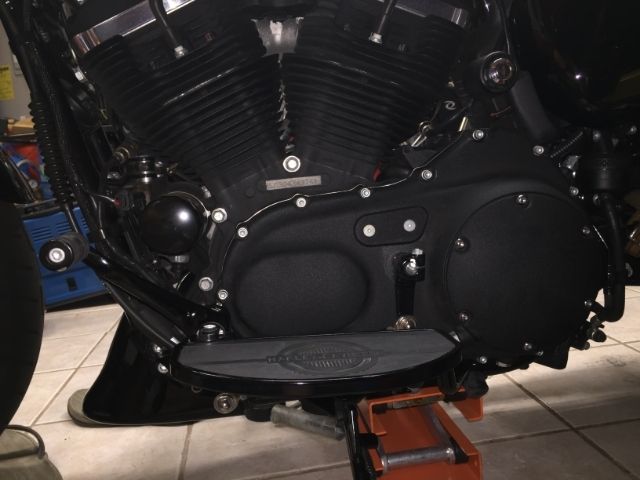 Junior Member
Join Date: Aug 2016
Location: Boulder Creek, CA
Posts: 2
What excellent information and photos!
BUT I have a problem that I haven't seen mentioned anywhere:
The adjusting screw is no longer "there". Because everything was ripped apart the adjusting screw is no longer attached to anything. (That was actually my first indication of a problem - I couldn't adjust the clutch because it would just spin. Opening it up, I found out why when the adjusting screw just fell out...)
So, if anyone's reading this, what would you do to get the clutch plates, etc. out. I've seen various homemade tools as well as the "official" ones, but they all depend on having an adjusting screw that is still attached.
HELP - I want my Sportster back!