Discussion Starter
·
#1
·
With the snowy winter keeping many of our bikes in the barn, here are a few photos of a recent trip. Maybe a reminder that Spring isn't that far off, and we'll be out more regularly again.
Last month, I flew to Santa Fe for several days for my Dad's 75th Birthday. From there I took a day and a half for some solitude and a little Southeastern Utah. Took my Dad's Honda........Accord
(actually a fine auto). Was quite cold, but sunny and clear, with a dusting of snow that added to the incredible scenery.
Finally forsook the film camera and bought a digital before I left (Canon S3IS). Bought a 2G SD card, and took ALOT of photos while taking it all in. Here are a couple of "lonely open motorcycle road" type pics that I took...
261 North heading towards Moki Dugway
261 North above Moki Dugway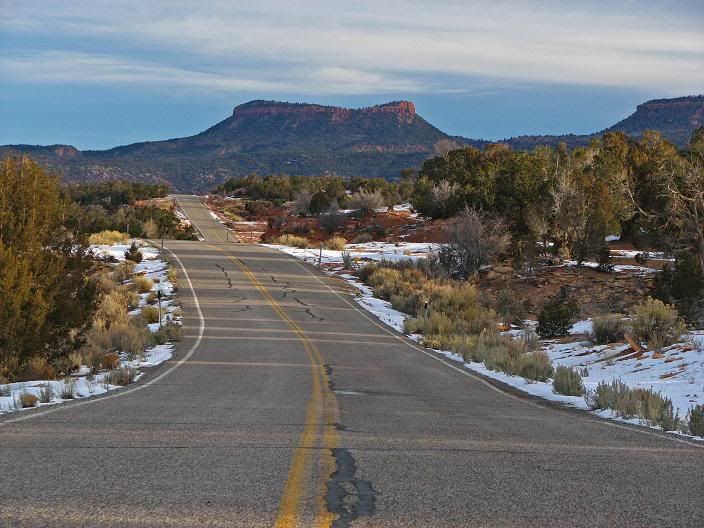 95 heading East towards Blanding
Spent the night in Bluff. Got up real early, and by a lucky guess after studying the atlas at the hotel, in the pitch black pre-dawn, went to the highest hairpin on Moki Dugway for an unbelievable sunrise. Saw no one else and no other vehicles for hours. Nothing but me, incredible views, and the bitter cold wind....
Looking east just as the sun appeared over the horizon
A minute or so later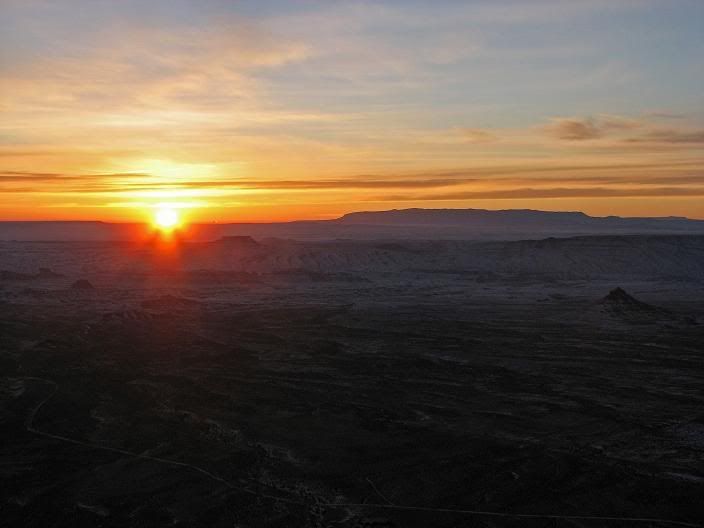 Looking to the Northeast, a few minutes later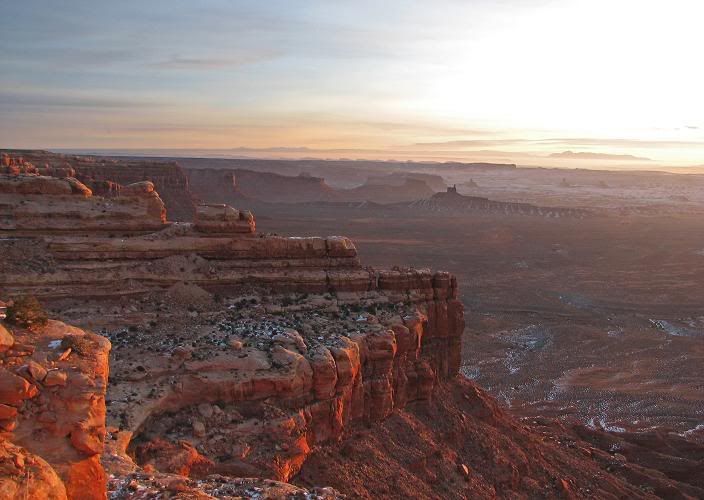 Found my solitude, had the roads and the area nearly all to myself. Can't wait to get my Glide out there one day.
If anyone else has photos of great places they have ridden, want to ride, or suggestions, especially anything out west for us easterners, feel free to add them to this thread.
BTW - Don't know what Moki Dugway is? Google Image it. An awsome unpaved, hairpin/switchback portion of Utah 261 that gets you 1100 feet up a cliff in 2.2 miles.
Ride on, Ride well.
Doug