Discussion Starter
·
#1
·
I know not a Harley, but this kind of mod can be done on any bike really with the proper knowledge. Hopefully you'll enjoy it for what it is.
So I'll start this one off with a quick introduction first… for any that might not know, I'm Chris 'Badger' Martin, and I'll post this pic since the wife just loves it (insert roll eyes smiley here…) .: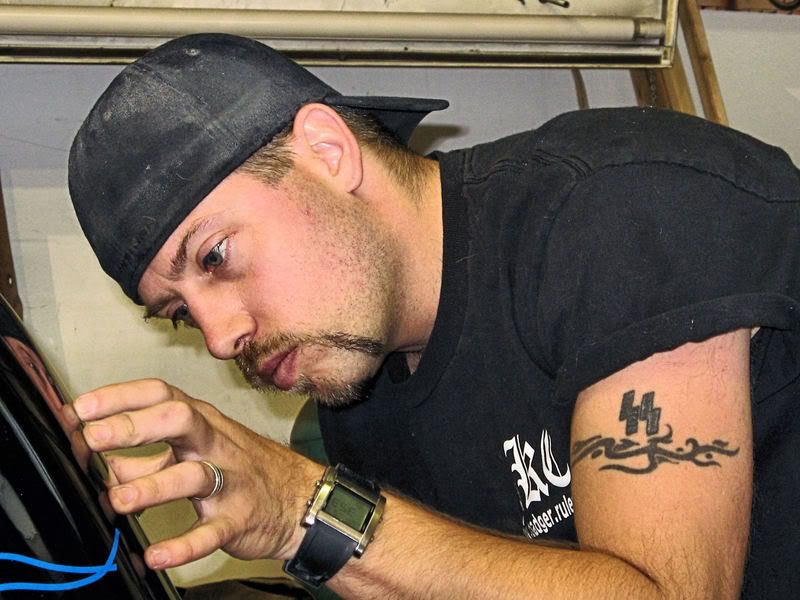 And the photos were taken by my lovely wife Elise. Hey if she can insist on a pic of me being posted, I can at least share one of her too, I mean fair is fair. LOL. :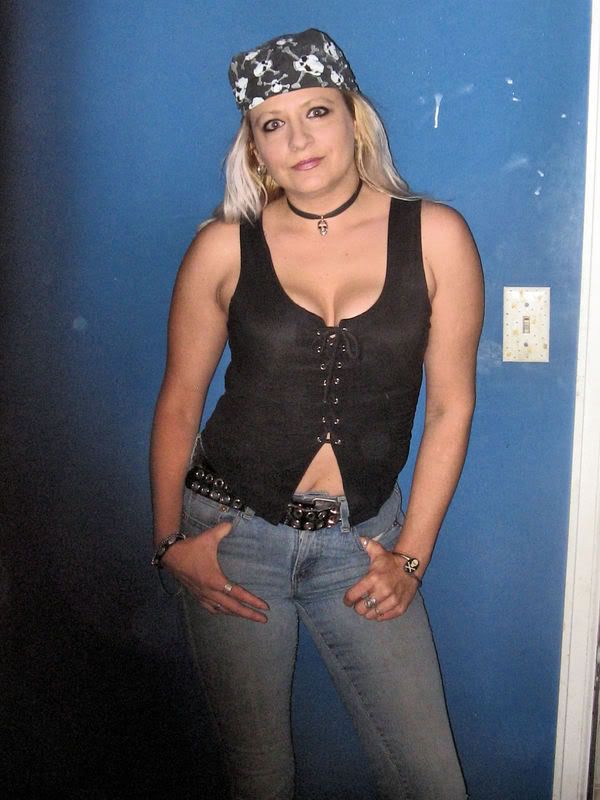 BKC is family owned and operated, where possible our sons join in and help out too. They're learning much of the trade and maybe some day will take over the family biz. In this particular How-To I should note that we were quite literally in a corner of the shop because I'd run out of room everywhere else. I imagine before long, (and if business keeps up this good) I'll be in a new shop (larger preferred) in the next year or so. But for now onto the project, I did this one back in June of '07…
This customer has a Kawasaki cruiser (I don't know the model, perhaps some of you can identify from the end photos?) And its sort of difficult to see in most shots, but it appears black with a blue metal flake pearl. I was told this is a stock color and I really like it. The customer just wanted some simple flat black flames added to his existing parts. I chose DBU 9850 and went with a flatting agent to achieve this effect. And made sure to top it with a dull hard coat protective sealer.
I started by cleaning all the parts first with good ol' soap and water. We all know how riding likes to deposit debris of all kinds anywhere and everywhere possible. So the initial cleaning is important to remove any 'grit' or abrasives that might harm the finish (since I'm not changing that), before I move on to PPG DX330 wax/degreaser to remove any road grime that might affect my paint.
Ok, since I'm not changing the existing finish on this one I simply have to live with any chips, dings or dents that my flame graphics will not cover. Customer had no problems with that, and impressively there weren't too many anyway. But I will fix this one located right at the tip of the fender. All it really needed was a light application of spot putty. Call me picky but I want my paint to look good even if I'm just adding graphics over existing paint work.: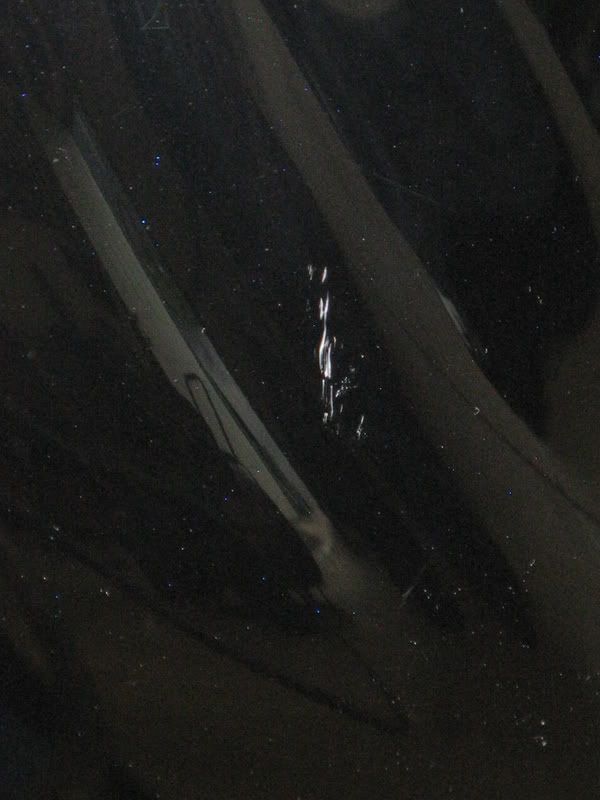 Another angle of the damage which was repaired prior to entering the booth.: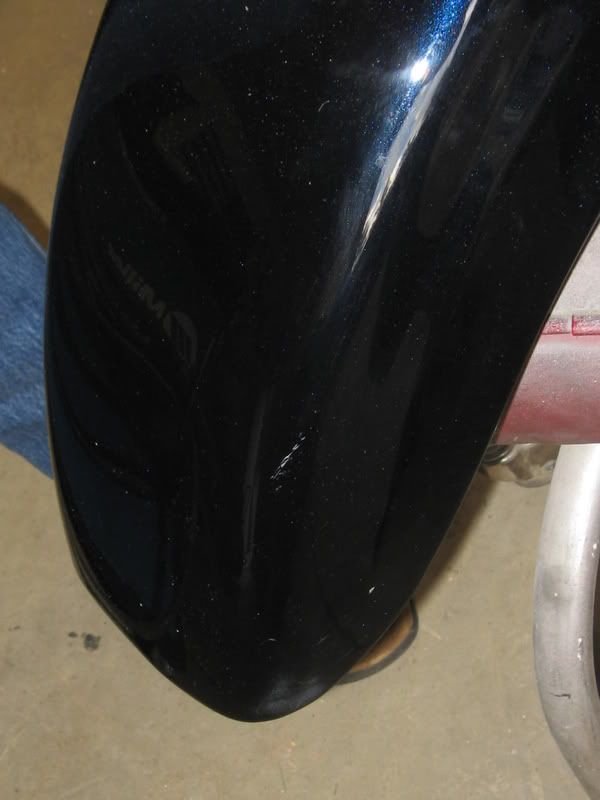 It was then time to lay out my flames. I started by gauging the center line of the fender. A couple quick measurements side to side, and then some 1/16th inch tape right down the middle for a concentric look. Then it was time for the fun to begin.
I used blue 3M 1/8th inch tape to lay out my flames. Now I want to mention a few pointers when using this stuff. I've heard many times about bleed throughs, wrinkling, and other unsatisfactory remarks about this product, and all are very viable. There are few critical points when using this product and for those that have tried it and didn't like it, perhaps try these few things and experiment with it. If you're still having problems with it afterward, I understand your desire to find new materials.
So first, this tape likes a certain temperature range. Anything above 80 degrees F is going to make it leave a nasty residue, anything below 70F will cause it to wrinkle and possibly lift. The first thing you should do is cup the tape in your hands to warm it up a little above room temp (which is hopefully between 70F-80F). I definitely recommend using this in an area where temp can be at least moderately controlled or maintained. The shop is typically on average of 72F. By cupping the tape, it warms it just mildly enough to make it pliable and very flow worthy. Next, when you lay down the tape, 'chase' your lines with a finger to help set it. As will see by the photos, I guide with one hand, set with the other. You don't have to mash it down real hard, just make sure its seating well. Also, 'guide' your tape, don't pull it. Pulling it too hard can cause the tape to stretch in areas and possibly make your design look 'wobbly' and it might be the reason the tape adhesion is poor.
Finally, cut your tape with a razor and lay the edge down, don't pull it off at the ends. Again it's the stretching, if you do this, you will actually feel the tape heat slightly as pulling causes internal friction in the tape which further breaks down its adhesive qualities. (Thanks to James B., a tech at 3M for explaining that one for the purposes of many related subjects and How-Tos.) Try this and see if the tape works more in your favor. But attempt it on a practice piece first, don't use it on a customer's project if you're still uncertain of it.
Ok, so back to the project here…
As you can see I carefully guide the tape around to make my flames. Now you can use various scribes and marking tools like Stabilo pencils if you like to have a guide to follow. Just make sure to wipe your marks clean before painting. I've been laying flames for so long now, I prefer the free form method and just let the design flow on out creatively. This tape is able to be repositioned, if you don't like something its an easy fix. So in these two pics you see my 1/16th inch centerline tape, and then I started free forming my flames with the blue 3M tape.: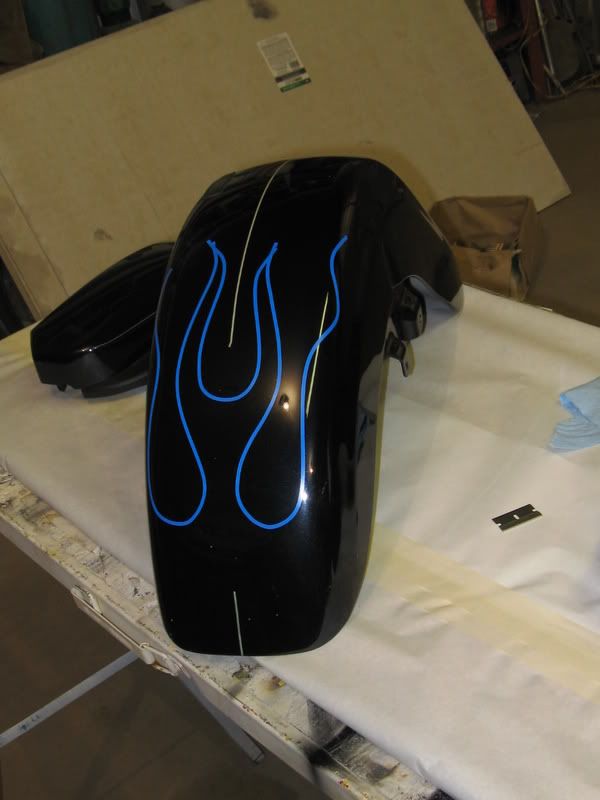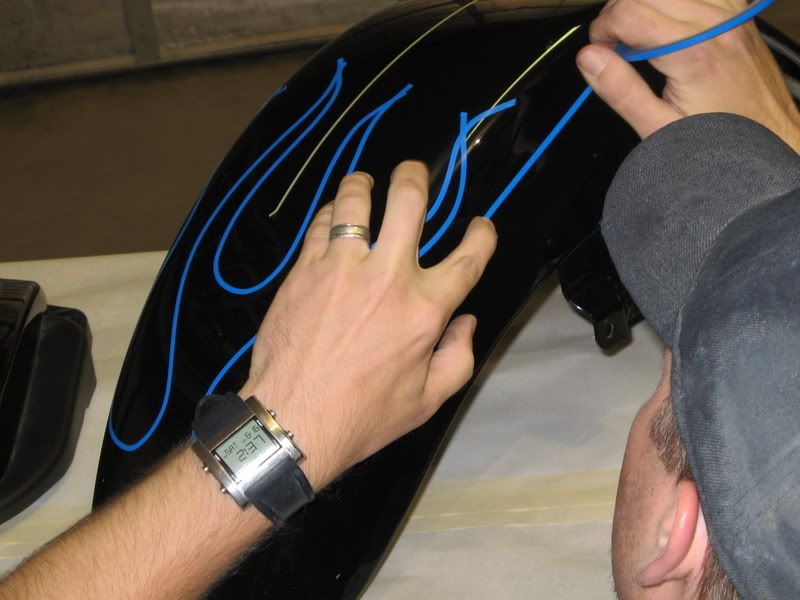 I allow the ends to overlap somewhat because these are going to be masked off. I make sure to seat them with a firm press of the fingers, and inspect them for any areas that look like they could be problematic. Seeing none I move on.: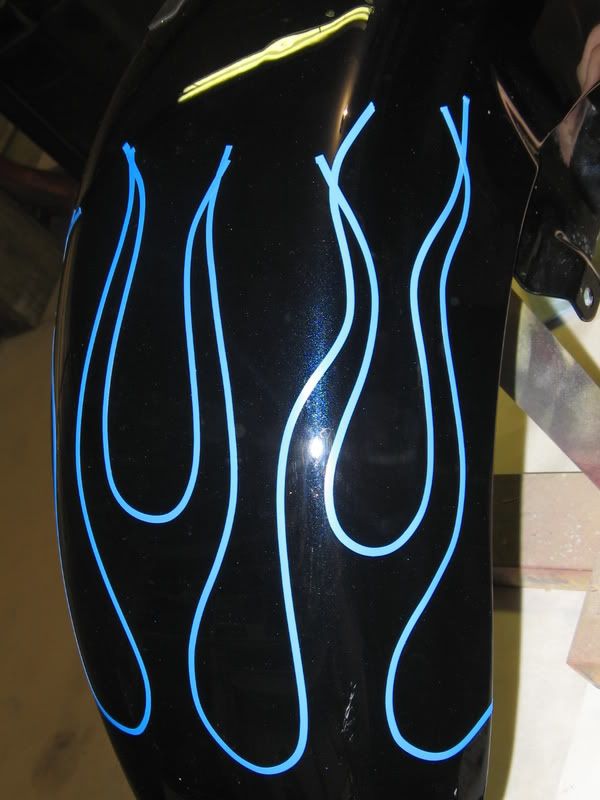 The customer and I had discussed previously where he'd like to see his flames, and what style. I also painted his helmet to match, its pictured at the end of this How-To and was done much the same way with the exception of using Kawasaki brand, (from his dealership) basecoat to match the bike. The flames are the same DBU 9850 flattened, and dull hard coat sealed, used on these parts.
(continued)