Discussion Starter
•
#1
•
I decided to put a spring seat on my '07 Sportster. Turns out due to the placement of a few things under the seat for those year ranges, Harley's stock mount / seat didn't work. I figured I would post a few pics of the bike now in case someone else was curious about putting a spring seat on a sportster for those years or that companies items.
Overall the install went smooth and dealing with LaRosa Design was great. They answered all my questions via email and the shipping was quick.
I started with the 5" springs. Those were way too high IMO. It felt like I was cruising around on a scooter sitting that high, hehe. I swapped them for 3" springs and those are much better.
They have a metal box on the conversion kit to house the part that was attached to my rear fender. Bad thing was that LaRosa's screw placement on their seat gave no room between the rear bolt and the housing when the seat was attached. I fixed this issue by shortening the bolt.
Since Harley attaches an item to the rear fender under the seat, they cut a hole in the fender. To cover that until I get a new fender, I bought LaRosa's bib. I would have preferred the adhesive tape be placed closer to the edges but that can be adjusted by picking up some on my own. Their default location places tape where the hole is. Since the bib is sold to cover that hole, that placement seemed odd.
Overall, I'm happy with the seat and the company.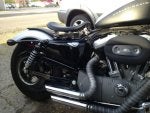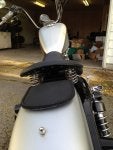 Sent from Motorcycle.com Free App