In the tradition of other threads where I document the changes... Here it goes.
Details on the bike: 2016 HD Softail Slim S in Olive Gold Denim
Purchased date: October 4, 2015
Miles on odometer: 6
Photo the day I bought it (transfered the Custom Dynamics Dynamic Ringz at the dealer)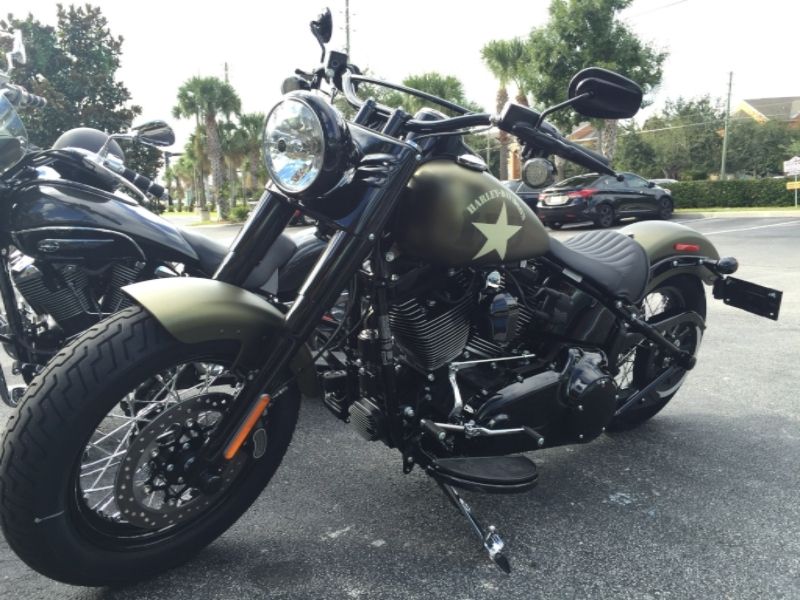 Parts bought with the purchased of the bike:
Detachable Solo Rack - Part No. 50300099A
Black Dial Analog Speedometer/Tachometer - Part No. 74776-11A
Detachable Docking Hardware Kit - Part No. 53932-03A
Detachable Wind Splitter Vented Windshield - Part No. 57400159 (only to be used when going in long trips...)
7 in. Daymaker LED Headlamp - Part No. 67700242
Flush-Mount Fuel Cap and Gauge Kit - Part No. 75027-08C
Satin Black Billet Style Rear Brake Lever - Part No. 41800-08
Billet Style Heel/Toe Shift Lever - Standard Length - Part No. 34023-08
Burst Brake Pedal Pad - Part No. 50600104
Burst Shifter Peg - Part No. 33600032A
Burst Collection Hand Grips - Part No. 56100098A
Tribal Mirrors - Part No. 92398-09 (since I could not find matching Burst mirrors for it
) Edit: I now see that Edge Cut Dome Mirrors
Part No. 56000090 are available. I will get the dealer to order these instead.
Softail Swingarm Bag - Part No. 90200456
Screamin' Eagle Air Cleaner Insert - Part No. 61300299
Black Custom Shift Linkage - Part No. 34015-08
Installed:
Custom Dynamics Dynamic Ringz
Custom Dynamics Rear LEDs Turn Signals
Pending Ordering:
Nothing at this time
Planned mods:
Install Fat Bob Wheels that were previously in my HD48.